Westfield Growing Project raised $50K for Canadian Foodgrains Bank
Posted on September 23, 2020 by 40 Mile Commentator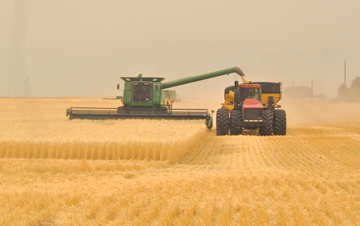 Commentator/Courier Photos by Justin Seward The Westfield Project had 10 combines out harvesting durum on Sept.14
By Justin Seward
Commentator/Courier
The Westfield Growing Project saw 10 combines come out to harvest 50 durum bushels per acre over 160 acres on Sept. 14.
The money raised goes back into the Canadian Foodgrains Bank initiative of assisting with hunger worldwide.
"This is the most community support we've had in years out here," said Deiryk Schussler, first year organizer of the event.
"We plan to keep it going and it's been really great. Today with harvest, 10 combines came out here, best day ever."
The combines and trucks came from local neighbours from within a 10 to 15 mile radius of the property.
Schussler's hope with that much equipment out for the harvest, that it's a start to a new revival of the event.
"We just haven't been as organized some years as we would like and sometimes people get busy and it doesn't work out. It was a good year for it," said Schussler.
Schussler took the harvest over this year from his Uncle Allen Schussler, who retired from farming.
"It's a good cause," he said.
"We grew up in a Christian home. It's a Christian project and it's a good way to support and help others with what we do by farming and just giving back."
The project is located on the corner of Highway 879 and Township Road 80 in the County of Forty Mile and has raised $50,000 in 2020 for the Canadian Foodgrains Bank.
There are 35 growing projects across Alberta and it's been a successful year so far.
"It's been a great year," said Andre Visscher, southern Alberta Canadian Foodgrains Bank coordinator.
"COVID is here but the harvest still continued. Farmers are still coming together and raised a crop for the Canadian Foodgrains Bank. It really makes difference when communities come together and they work together."
Donations are up 30 per cent this year, Visscher added.
"The need is great because there are still a lot of hungry people in the world," he said.
The funds raised will be matched four-to-one by the federal government.
Tony Crooymans and Sons donated durum; Syngentas provided the seed treatment and chemical. Chemical also came from Nufarm, and Agroplus Holdings in Foremost.
The Schussler Brothers provided the fertilizer, and equipment was donated by Dykshoorn Farms and spraying by Schussler Brothers and Vader Farms.
Muriel Luca donated the land for the Westfield Growing Project in 1996.