Bean harvest expected to bring in another good yield
Posted on September 30, 2020 by 40 Mile Commentator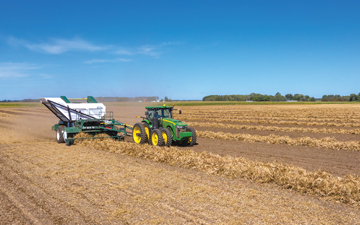 A combine during a bean harvest.
By Justin Seward
Commentator/Courier
The bean harvest is wrapping up in the coming weeks and is expected to bring in another strong annual yield.
The crop is planted around May 15, depending on weather, and it takes 90 to 100 days to mature before the harvest begins.
An average yield ranges from 2,600 to 2,700 pounds.
"This year we had a couple of weather delays, but overall it's been good," said Scott Collins, Bow Island Viterra bean plant fieldman.
"We could get the brunt of it done hopefully by the first part of October. There may be some stragglers after that."
The beans have had their challenges with hail storms along the way this year,he added.
"They can come back from a hail storm. But they certainly delay the maturity," he said.
Collins said, "In the end, it's going to take out above average. I don't know where it's going to exactly be at, we're not done harvest."
He anticipates there could be 150 pounds more coming in at the end of harvest.
Steve Wikkerink farms six circles of five different kinds of beans and says he's been hearing there have been good yields.
"I would assume with not much rain events in the harvest yet, the quality would be really good," he said.
"At least whoever I've talked to, they've been very pleased with their beans so far."
His first field did experience some disease this year.
"That one is what we consider to be on the low side," he said.
"And the next two fields that we are doing, are right towards the top again of where we had some of our yields. So far it's been on both ends. The ones that are still standing, they all took a little bit of hail on them. We're kind of waiting to see what they're going to do."
Wikkerink says there was one half circle that didn't come back real good because it was beat up so bad.
"The other acres, it looks like they've come back pretty good," he said.
However, a challenge that is presented is keeping mold out of the fields.
"If it gets in there, it kills your plants and your yields are starting to drop," he said.
Wikkerink resumed bean harvest on Thursday in hopes of getting one half of the field done by Friday and this week doing the other half.