BluEarth buys Suffield Solar farm
Posted on September 30, 2020 by 40 Mile Commentator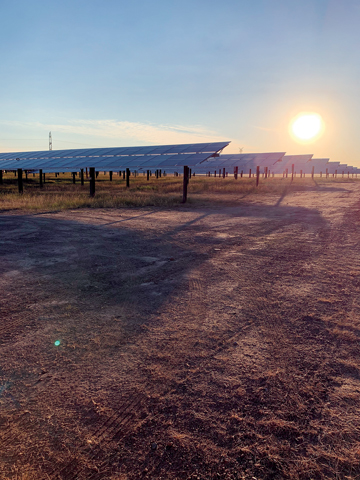 SOLAR FARM SOLD::The Suffield Solar facility has been sold to BluEarth.
By Justin Seward
Commentator/Courier
The soon-to-be in-service Suffield Solar farm has been sold to another renewable energy developer with major projects underway in the area.
Combined it will make BluEarth Renewables one of, if not the largest solar power producers in Alberta this time next year.
"We also believe more opportunities are on the horizon given the favourable market conditions for renewable energy investment in Alberta," said BluEarth president Grant Arnold in a release.
On Wednesday the Calgary-based firm announced it acquired the Suffield Solar array that is being built west of the Cypress County hamlet on the south side of the Trans-Canada Highway.
Canadian Solar began building the $45-million field last year, though no purchase price was disclosed.
BluEarth also began construction on two of its own utility scale solar fields in the County of Forty Mile in August.
"We're an Alberta-based company and always looking for opportunities," said BluEarth communications director Doreen Miller.
She said the relatively tight grouping of facilities in southeast Alberta would create efficiencies. Maintenance facilities and several full-time employees after construction involving hundreds of contractors would be based at one of the fields, but no decision is made.
While a number of larger projects by other companies are approved and apparently moving toward construction, BluEarth's 63-megawatt peak production would make it No. 1, for at least a time, when all three come online.
At Suffield, the 23-megawatt field is set to be commissioned and energized this fall, according to Canadian Solar, which discussed the progress with Alberta Newspaper reporters.
The project was partly paid for by a $14-million innovation grant by the federal government, and uses tracking, bifacial panels the company says increases output on cloudy days and avoids ice or snow build-up.
"The Suffield Solar Project proves the notion that private investment coupled with government funding to advance research and new technologies is a win-win for consumers," stated Shawn Qu, Canadian Solar's CEO in a release.
Canadian Solar has three other fields under development – in Jenner, Tilley, and Hays – that will fulfil a bulk power purchase from the Province of Alberta.
The power from Suffield is under contract to be sold to Direct Energy, and that contract flows over to BluEarth.
Production from new BluEarth stations at Burdett and Yellow Lake is under contract to the Royal Bank of Canada and Bullfrog Power, a green-energy supplier in Alberta's deregulated market. Those deals were announced in July.
Burdett Solar, a 19-megawatt solar facility to be located near the hamlet in the County of Forty Mile, and Yellow lake Solar, a similarly sized facility 19 kilometres to the south.
Recent newsletters from the company to nearby landowners state combined construction costs will be about $70 million.
It also states construction would require 300 positions over this winter and they would be commissioned in late 2021.