Still a beauty, 100 years later
Posted on September 30, 2020 by 40 Mile Commentator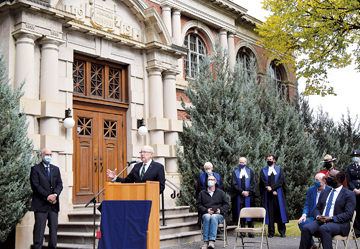 ANG Photo Collin Gallant Former Alberta justice Minister and local MLA Jim Horsman speaks at a ceremony to commemorate the 100th anniversary of the opening of the Medicine Hat Courthouse on Thursday in downtown Medicine Hat. NEWS PHOTO COLLIN GALLANT, Sept. 24, 2020
By Collin Gallant
Alta. Newspaper Group
It's been called the most beautiful in Alberta, as well as the oldest, but at its 100-year anniversary on Thursday, stories about the Medicine Hat Courthouse centred on how it was almost torn down.
Dignitaries in the legal, law enforcement and political communities gathered on the building's lawn for a noon-hour dedication of a new plaque denoting its historic significance.
"There are some that are newer and more modern," remarked Court of Queens Bench Chief Justice Mary Moreau. "But there would be little debate about which, considering its setting here on the river, is most beautiful."
The building opened this week in 1920 at a cost of $131,000.
Speakers remarked on its setting and Italian renaissance revival style, and touched on some moments of legal history made within its walls and ornate Courtroom No. 1.
"It's a fitting lasting record that needs to be told to the public," said former MLA Jim Horsman, who practised law in the courthouse before entering politics and becoming Alberta's justice minister. "It houses the administration of justice in this part of the world … a keystone of our society."
Horsman's history with the facility began in the 1960s as part of a civic effort to oppose its demolition and replacement.
Then while in cabinet, he stopped initial plans to add a modern extension off the back, before approving more seamless renovations that preserved its style in the mid-1980s.
"It was so bad I won't describe it," he told the gathering of initial plans.
Eventually, local architect Jim Needham was engaged and the project went ahead.
Thursday's ceremony was arranged by former Crown prosecutor, defence lawyer and city alderman Bill Cocks, in conjunction with the city's Historic Resources Committee that will place a new story board at the front steps.
Current Justice Minister Kaycee Madu said the courthouse presents a working symbol of the rule of law.
"For 100 years it has provided access to the justice system for the people of this community," said Madu. "We are fortunate in this country to be able to work toward a more perfect justice system. This court and the people who work in it embody that spirit."
Thursday's event follows the cancellation of a Law Society event to celebrate the centennial at the building originally slated for last May.
This week new plans were announced to reschedule the event next May. It will include a recreation of major portions of the 1946 POW murder trials and a gala diner featuring Supreme Court Justice Russell Brown, says Shaun MacIsaac, the president of the Law Archives Society of Alberta.
City historic committee chair Patrick O'Brien said the new sign is one of several that the committee is ready to unveil around the city.
"We really want people to get out and look for the signs and learn about our community," he said.
In attendance as well as Moreau, was Queen's Bench Justice Dallas Miller, a Medicine Hat native who was called to the bench and took his oath in an ATCO trailer near the site while 1986 renovations were ongoing.
Four provincial court judges attending were Chief Judge Derek Redman and local judges Diedrich Brandt, Frederick Fisher and Eric Brooks.