SAHA U18 prep girls team eager for game action
Posted on October 7, 2020 by 40 Mile Commentator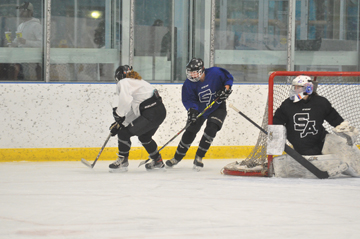 Commentator/Courier File Photo PREPPING FOR THE SEASON: SAHA U18 female prep player Brooklyne Painter battles with an undentified player as Cypress County goalie Devyn Amundson looks on during a drill at the Family Leisure Centre on Oct. 1.
By Justin Seward
Commentator/Courier
The Southern Alberta Hockey Academy U18 female prep Midget AAA hockey team (formerly the Banff Academy) have been on the ice now for over a month practicing and appear to be ready for Canadian Sport School Hockey League game action very soon.
"It's good," said head coach Evan Vossen.
"Obviously kind of the tentative plan, when things were supposed to get going would have been (last) weekend. For us, it's just trying to keep that fun and excitement for the first month and knowing that it's looking like that we're going to play games, but not really knowing. So just trying to keep the girls engaged and keep working and improving on some of the developmental pieces."
Vossen's focus has been making sure the girls have good habits after what was a different off-season in terms of facilities' availability.
"For a lot of girls, getting back on the ice at the start of September," he said.
"Some would have skated a little bit, but not as much as they probably would have over the course of a regular summer. So just getting back to good habits, probably getting into shape a little bit, just getting those pieces, the cardio, and that sort of stuff back in it."
He keeps the girls motivated by implementing a few smaller games into the practice and a little bit of competitiveness.
"Whether it's mixing in some frisbee or rugby, something different like that, (it is) just to keep it light at certain points of time and make sure that they're still coming to the rink with that energy and that passion piece," said Vossen.
"Now it's looking like we're going to be able to get going a bit and now that excitement is starting to build."
Vossen says the girls are going to be a hardworking and a relentless team.
"I want to make sure we have good habits in place and attention to detail in all areas of the ice," he said.
"That's something we've stressed for the first month and as we get going here, we'll get a bit of a feel for where we stand against some competition."
For most teams, it's tough to analyze their opponents this early in the year.
"We could go back and watch some video from some of the teams from last year and there's probably some tendencies that you would be able to see," he said.
"Outside of that I guess you could do that and hope they haven't changed anything and if they did, then you just kind of have to adjust on the fly. I think for the first few games, until we can see some video on some teams, the study part of the game will be minimal."
Cypress County's Devyn Amundson is a goalie on the team and is enjoying being on the team because there is strong bond developing among the girls.
"It's more like a family kind of thing than a team," she said.
"We all get along super well. There's no issues, no nothing-I love it. It's like being with your friends all the time and we all get along other then hockey too. We can count on each other and it's good to have that."
After travelling to Lethbridge to play for the Bantam elite Southern Express for the past couple of seasons, Amundson was intrigued by the Academy being right in her back yard.
"When I saw an academy at Medicine Hat, I've always wanted to play on an academy (team) and the fact I could stay at home and do it too, it really caught my attention" she said.
Players on the team are billeted and go to school at Eagle Butte and with Amundson being a local; she has been able to settle her teammates into the area.
"I know how to get places in Medicine Hat," she said.
"I've lived here my whole life. So I help when girls need help and stuff like that."
The CSSHL is following Hockey Alberta guidelines and it's looking like the puck could drop for exhibition play in a couple weeks time.
"We're working with our league and Hockey Alberta to see what that looks like from that stand point. But I think within the next two to three weeks here, we'll be looking at having a game or two, just to get some of that rust out," said Vossen.
He anticipates the games to be more against provincial teams until at least Christmas time or into the New Year.
The league normally stretches from Vancouver Island to Winnipeg.