Parents and caregivers learn how to support children during tough times
Posted on October 14, 2020 by 40 Mile Commentator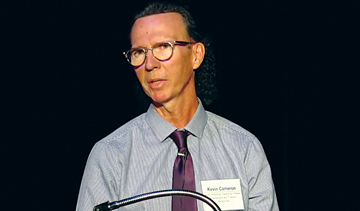 SCREENSHOT FROM LIVESTREAM Kevin Cameron speaks to Hat parents virtually about suicide and mental health Wednesday night during a visit to the Hat.
By Justin Seward
Commentator/Courier
A mental health national specialist hosted a virtual information session on Oct. 7 at the Medicine Hat College for parents and caregivers on how to start conversations with children around grief, loss, suicide and mental health.
The Connecting with School Communities about Suicide: Hope and Resilience in Southeast Alberta event's co-host Kevin Cameron, North American Center for Threat Assessment and Trauma Response Inc.'s executive director, talked about the first step approach to parents and caregivers.
The discussion included: assessing the current situation, understanding the dynamics of a worldwide pandemic and risk, educating each other on best practices in our region, discussing immediate and long term interventions and identifying pathways to locals helping services for consultation and support.
"This is uniquely an area I've worked a lot in which is the dynamics of suicide," said Cameron.
"When we're not dealing with just one circumstance, but when there have been several and often these things can become self-perpetuating, unless quite frankly, we pull all the adults together and get a little bit clearer (with) what is happening and how to reach out and connect with kids and each other."
The southeast Alberta region has seen a recent series of deaths by suicide and other individuals who have been in suicide risks since then.
"One of the big things that happens is once it feels like there is a dynamic is, 'we have an identification with', are the big words," said Cameron.
" If it's a high profile violent incident, that sometimes will have troubled kids or adults identify with the perpetrator and that will increase their level of risk because they see themselves in this person that committed a high profile violent act.
"We see the same dynamic with suicide, where the more the people believe they know about why somebody did it when they see the (multiple incidents) occur, the more the troubled individuals can identify with the victims, the more will increase their symptom development and that's what we're dealing with right now."
Cameron said the way they can put halt to it-especially with our children and youth first- is to pull the adults together.
The focus in step one is to lay out the context of what is being dealt with and secondly is to assess what is being heard from the kids.
"We already know that some kids are feeling the adults are not talking about this," said Cameron.
"Other kids are actually feeling that they are, but the adults aren't maybe hitting it on the mark or the kids aren't trusting enough to come forward and tell us."
This is a situation where parents and caregivers need to have, "meaningful conversation with their children."
Cameron emphasized a meaningful conversation just doesn't occur from a parent in three years or getting off a Zoom call and ask how the kid how they are feeling.
"You've got to take some time and really consider what is your relationship like with your child and do I need to me more thoughtful (or) strategic," said Cameron.
"…After we have that idea of what the kids are saying then we can develop better services. One of the things I've already recommended is we always have to have good consultation resources, meaning that all mental health services, counseling services, religious services in the entire region need to make themselves more available during this critical phase."
Cameron also addressed ways to navigate through the COVID-19 pandemic.
He spoke specifically to things around trauma and becoming seemingly stressful.
"We say the higher the anxiety the greater symptom development," he said.
"What that means is if an individual is exceedingly anxious and stressful, of course they're going to have symptoms, whether it's sleep disturbance, angry outburst, withdrawal, drug and alcohol use."
The same is true for families, he added.
Cameron said, "Whatever the anxiety is among the adults, we might think the kids are oblivious to our stress-but they are not. It will trickle down and the kids will bear it too."
He hopes that parents and caregivers can acknowledge they did create moments to have ongoing conversations with their kids and have consulting sessions.
Medicine Hat Public School Division psychologist Claire Peterson, Prairie Rose School Division psychologist Greg Godard and local police also joined Cameron on the evening.