Pickleball gaining traction in Bow Island and area
Posted on October 14, 2020 by 40 Mile Commentator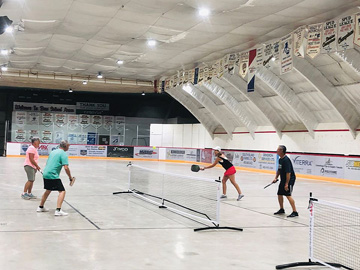 Town of Bow Island Facebook page photo
By Justin Seward
Commentator/Courier
The Town of Bow Island offered pickleball for the first time back in the summer months at the Servus Community Arena and saw an increased interest in participation.
"It was actually about as successful as I could have hoped for," said Lowell Leffler, the Bow Island Pickleballers' organizer.
"We ended up getting about 20 people, usually we would have anywhere between 12 and 14 people coming out. We went four days a week-two mornings and two nights. The nights actually were quite successful, that's when more people are able to come out."
Most of the people were regulars, if they didn't all come out on the same day, added Leffler.
"We had three courts set up, so you can play four people on a court," he said.
"What we're looking at next year is getting a couple more courts-so we've gone up to four or five courts and then we can do more people."
There were a mix of players that came out and played, ranging from 11 to 12 year olds and all the way up to 75-yearolds.
"What my goal was- it wasn't to establish an elite competition where the best would play and find out who is the best overall- it was to introduce people to the game of pickleball,"he said.
"It's something they can do for the rest of their lives. You can play it as fast or as slow as you want."
Leffler said, "You've got a few people that are fairly experienced. But other people may have only played a few games, but the improvement was phenomenal."
Pickleball went until the ice was installed at the arena at the end of September and now has shifted games to the Burdett Arena.
There has been four courts set up in Burdett for a couple of weeks since the move, where 16 people have been consistently coming out to play.
Pickleball will be played in Burdett until the ice is put in for public skating.
"They're looking at maybe Dec. 1-putting in ice- but things are going to have to change as far as the COVID restrictions go," said Leffler.
Games in Burdett are going on Tuesdays, Fridays and Sundays from 7 p.m. to 9 p.m. and Wednesdays from 9 a.m. to 11 a.m.
People can still join by signing up through the Bow Island Pickleballers Facebook page.
It will cost $5 a week to play.