Ride-A-Thon a success
Posted on October 14, 2020 by 40 Mile Commentator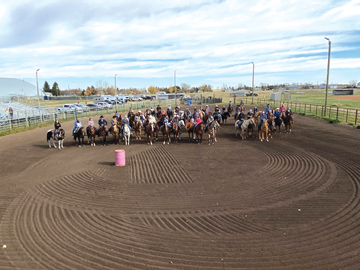 Photo submitted by Michelle Cowie The 52 riders who partcipated in the Ride-A-Thon on Oct. 9.
By Justin Seward
Commentator/Courier
There were 52 horseback riders from the Foremost community that participated in the Ride-A-Thon on Oct. 9.
Riders rode from the proposed indoor riding arena site to the village's rodeo grounds.
"It went smooth from what I saw," said Stacey Barrows, Foremost Ag Society's treasurer.
"Everybody came in and filled out their forms and turned in their pledge sheets. It was very well organized."
It was in the weeks leading up to the event, riders had to take their pledge sheets out in the community to ask for money, which in turn went directly back into the fundraising needed for the indoor riding arena project.
The indoor riding arena committee were also asking for gold, silver and bronze plaque donations from businesses.
The anticipated fundraising goal was $50,000 from the Ride-A-Thon,however, the total came in at $245,530.
"We had overwhelming support from the community and businesses within the community ," said Barrows.
"It really pushes us over the edge to move into the next step to apply for grant funding to help finish the project off. It just showed us how much our community believes in us in the process in the project we're doing."
Barrows says the project had $390,000 fundraised going into the Ride-A-Thon.
The numbers were tallied up over the weekend and the fundraising total nowsits at $643,000.
The aim is to have $800,000 to go after provincial grants by June 2021.
"I think our next step is to get some of those larger corporations and grants that come about in the New Year,"she said.
Brynlee Hollingsworth raised $2,000 in pledges and thought the Ride-A-Thon was a cool experience.
"It was really cool seeing everybody from the community coming together," she said.
"There (was) a big turnout. I didn't think there was going to be that many people. It was pretty crazy."
Hollingsworth says she would use the indoor riding arena.
"The closest indoor riding arena is Taber and that's almost an hour away and you have to rent it," she said.
"We don't really get to ride much in the winter. If there's a riding arena, that'd be great."
Hollingsworth added on rodeo in the area, "It's a common interest-a different lifestyle-like everybody can relate to it."
The project's total cost is $1.5 million.