SAHA U18 male preps to be hardworking in games
Posted on October 14, 2020 by 40 Mile Commentator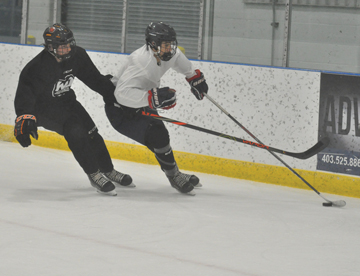 Kaden Rath (black jersey) battles with Quinten Unreiner during a practice earlier this month. Quintin Unreiner and the boy in the black is Kaden Rath
By Justin Seward
Commentator/Courier
The Southern Alberta Hockey Academy U18 midget AAA male prep team has been hitting the ice for over a month now and it appears the team is taking shape as the Canadian Sport School Hockey League nears the start of a meaningful series of games.
"It's been exciting to get going," said Brayden Desjardins, the team's head coach,
"We weren't really sure with everything going on if it ever was going to happen. It's really exciting that we're here. The first month has been really good. Is this the first time I've ever seen it this way? Normally when you come into a year, you've got your team for like a week and then you're playing games right away. Now we've had a chance to be with the guys for a month and really try and build something."
Desjardins wants to build a team around something that Medicine Hat can be proud of.
"We're really local heavy," he said.
"We definitely want to show our local flair. We're going to be a fast team; we're going to be an exciting team to watch. Our team is really fast- we can really skate. We play at a really high tempo. If you play us, you're going to be at a war."
Desjardins has a long-term goal for his squad of wanting them to move on to the next level.
"These guys wouldn't be here unless they wanted to move on to a junior program," said Desjardins.
"I think for me, I want guys to play at the next level. It's what can we do to get them there. We're really taking our nutrition seriously; our fitness has been really good- we work out everyday. It's really making sure those guys see that those long-term goals match up."
The head coach says it's been easy getting these guys to go day in and day out.
"If you're a hockey player and a good one, it's not what you are, it's who you are," he said.
"I think these guys have it in their DNA that they're going to work hard on the ice no matter what. (For) a lot of these guys, this is what they were made to do, they don't know any other way."
Cypress County's Austin Derzaph is one of the locals on the team and sees his teammates as hardworking.
"Everybody is hardworking. Everybody seems to be really focused on what they want to do," said Derzaph.
Derzaph's decision to join the team was made easier as he has familiarity with Desjardins as a coach.
"I've had Des as a coach for a few years and he's a really good coach and same with his dad Willie, I've been with him for awhile," he said.
He said on being a local kid on the team, "It's nice living with my family and I know a lot of guys here, so it's nice about that."
The team will begin a regional series schedule against Calgary's Edge U17s on Oct. 16 at the Family Leisure Centre.
The schedule will conclude by Dec. 20 with a regional champion.