BIMH enthused to see players back on the ice
Posted on October 28, 2020 by 40 Mile Commentator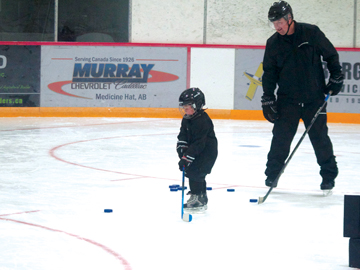 Commentator/Courier File Photo
By Justin Seward
Commentator/Courier
Bow Island Minor Hockey players hit the ice for the first time a couple of weeks ago amid the COVID-19 pandemic.
Teams were able to hit the ground running on Oct. 13 and everyone that entered the arena was able to follow protocols.
"The town had the ice ready for us to start our season on Oct. 13, and everyone was up to speed on COVID-19 requirements by that time," said Chantel Timmons, BIMH president.
"The BIMH board have constantly created documents, then recreating with the updates that come out and then getting those out to the members for information."
Timmons says BIMH has been fortunate with restrictions faced in Bow Island.
"Our arena is willing to work with us in regards to restrictions," said Timmons.
"Right now, while we navigate through the first couple of weeks of the season, we will all be required to wear a mask in the building as a spectator. Players and coaches will only need to wear them to their dressing rooms, and once their cohort group can maintain some social distancing, will not be required to mask."
People entering the Servus Community Arena will notice that there will be one-way traffic and the town has imposed a 75-spectator limit in the arena.
"As a user group we will be required to count spectators as they come in and ask that they have done the daily online COVID-19 screening before entering. As we move through the season we are hoping to see things improve and maybe see some restrictions lessened or lifted. For now I am happy to see our kids on the ice," said Timmons.
The U7 team has players from age's four to seven.
There are a mix of mostly Bow Island kids and three Foremost kids at the U9 level (formerly novice) to make up that team. The U11s (formerly atoms) saw an addition of a Medicine Hat player and had enough players to form a team in Bow Island and Foremost.
Timmons said, that is "Something that doesn't seem to happen too often."
The U13 (formerly peewees) is a team composed of Foremost, Bow Island, Medicine Hat and Warner players.
For the U15s (previously bantam), their roster consists of Bow Island, Foremost, Medicine Hat and Warner players.
The U18 are the former midget division players, and is a combination of Bow Island, Foremost and Vauxhall players and the hope is a few more players join the team to ensure adequate numbers.
"We lost a few players in our older divisions to some elite programs along the way, which is both good and bad," said Timmons.
"Great to see the higher calibre players coming from our Minor Hockey Association, but bad that we are left with such low numbers when they leave. We also release some to female hockey tryouts and programs."
Each team will have to have COVID tracking to keep track of their attendance at MHA sanctioned events. Spectators will not be a part of the tracking and will enter the rink at their own risk.
"Our BIMH board has worked hard and spent many more hours to get to this point in the season than usual; but hearing those players walk in the door for their first practice and seeing the smiles on their faces makes it worth it for me," she said.
League games begin on Nov. 6.
The arena has a mask policy where spectators have to wear masks upon entering.
Masks will be available for those that do not have one.