Habitat for Humanity turns the sod on new build
Posted on October 28, 2020 by 40 Mile Commentator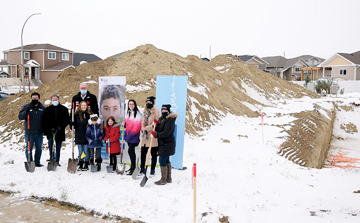 ANG Photo by Collin Gallant Dignataries and future home homeowners gather at the site of the new Habitat for Hmanity building project in the southend community of Southlands on Friday morning. -- NEWS PHOTO COLLIN GALLANT, Oct. 23, 2020
By Justin Seward
Commentator/Courier
It was wintry-like conditions in Medicine Hat on Friday.
However, that did not put a damper on Habitat for Humanity Medicine Hat Chapter's ground-breaking ceremony for their build on Southlands Dr. in front of local delegates, Habitat representatives, building contributors and one of the family's that will call one-half of the duplex home.
"We've worked really hard for two years to qualify two families to sell them to," said Annette Fahselt-Andreas, Medicine Hat Chapter's construction chair.
"We finally go them qualified at the end of 2019 roughly. We're excited to start the build."
The families include two single moms with young daughters.
"(They are ) both actively involved in the community right now trying to complete their volunteer hours," said Fahselt-Andreas.
A build is not made possible without a community coming together according Habitat for Humanity Southern Alberta president and CEO.
"When we embark upon on a build it's really a function of the community coming together and saying we want to make this happen," said Southern Alberta Habitat for Humanity president and CEO Gerrad Oishi.
"We've been very lucky that we've always had a ReStore in Southern Alberta and we have a really dedicated committee. In the last three years, it's really come together for us that we've been able to obtain land at a price we could afford. We've been able to put the fundraise and put together the funding."
The build's cost will in at $250,000 per unit.
"The City gave us this land at a discount, so that was really great," said Oishi.
"The Province of Alberta has come in to help support us. It is quite amazing actually to see in addition of the people celebrating with us today, there are actually thousands of people that have donated."
The build-which the first since 2012 in Medicine Hat- is anticipated to be finished in 10 months.
The two-storey duplex will be 2,524 square feet.