Susan Andersen Library seeing positives with restrictions in place
Posted on October 28, 2020 by 40 Mile Commentator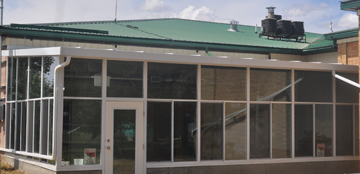 Commentator/Courier File photo
By Justin Seward
Commentator/Courier
Bow Island's Susan Andersen Library has been reopened since the end of June and all-in-all it has been a smooth reopening.
"Pretty much everyone that has come in has been really respectful," said Kathryn Van Dorp, librarian.
"We have found that most people aren't reading our signs anymore. We've pretty much verbally told everybody our expectations for when you come in the library. In the beginning, we were actually literally greeting people at the door and just going over our expectations if they wanted to come in."
Services that have reopened again since July include photocopying, laminating, and orders being made from other Shortgrass libraries.
"We're taking a really cautious approach with this. (We are) just limiting people in the library and kids still needing to have a parent with them," said Van Dorp.
"We're such a high-touch building. People are welcome to come in, they're welcome to browse and get their items. But it's kind of like check yourself out and you to need to enjoy your stuff at home."
The staff has been sanitizing after the library is closed for the next day.
Van Dorp says the library does not have any plans for programming and there is no access to public computers yet.
While foot traffic has been picking up, the library has not been seeing as much of the kids because of the rule of being 12 and under that you need to be accompanied by a parent.
"It's down a bit because families don't have time to come together," she said.
It was earlier this month the library expanded its hours on Tuesdays to 7 p.m. and the 24-hour book return is available now.
Van Dorp added the library will not be making masks mandatory, but people are welcome to use the government ones that are being handed out.
Her focus for the next month is to get the public computers back up and running for people and the purchase of new computer chairs that can be wiped down.