UCP creating health instability: Notley
Posted on November 3, 2020 by 40 Mile Commentator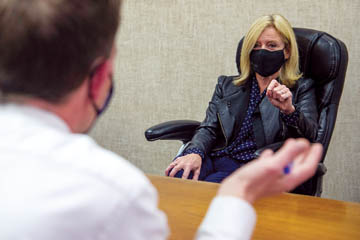 ANG File Photo SPEAK UP: Alberta's official opposition leader Rachel Notley encourages Albertans to have their say of what the province should look like moving forward through Albertasfuture.ca.
By Gillian Slade
Alta. Newspaper Group
The leader of the official opposition says the UCP government's handling of health care is creating instability, and that, in itself, is costly.
NDP Leader Rachel Notley was in Medicine Hat on Thursday and said when she became premier in 2015, 10-year records from the previous conservative government showed that frequent changes in health care had led to increased costs.
"We said, 'Let's stop paying the political football premium and create a bit of stability,'" said Notley.
Fast forward to 2020, and she says a series of recent cuts is creating instability again. The issue, she believes, is the UCP's cuts at Alberta Health Services are not about saving money.
"It's about the fact that they don't support public health care," Notley said.
For example, Health Minister Tyler Shandro announced earlier this month that 11,000 AHS jobs would be eliminated, affecting 9,700 people. Some services would also be privatized to save money.
The total annual savings is said to be $600 million.
Notley says this figure is wrong. The former premier says about $400 million in so-called savings is coming not from eliminating the jobs, but from fee hikes, such as for LTC, Home Care and drug coverage.
The other $200 million, she says, is a big maybe, and the government knows it. Notley claims that the UCP's own documentation says contracting out services could save $200 million, but that it also says it might not – even suggesting that it could actually cost extra in the end.
"They've claimed that all of that ($600 million) comes from firing 11,000 people," said Notley. "What actually comes from firing 11,000 people is a profound level of instability."
The local laboratory is another example of dubious savings, she says. When the NDP was in power, the contract with Medicine Hat Diagnostic Laboratory was allowed to expire after more than 40 years.
At the time, savings were predicted to be $5 million.
Notley says her government had a choice to either fund new facilities that Dynalife, the former private service provider, would then own, or take over lab services altogether.
She says her government felt that publicly owning the lab would save money in the long run, and also allow Alberta to expand into research at the Carry Drive facility as part of a larger diversification strategy.
AHS, under Notley's government, spent an undisclosed amount developing the new lab in Medicine Hat, and the full cost was never revealed.
But now the UCP wants to contract the lab services out once more, and are claiming it will save money.
Notley wasn't able to speak to further specifics surrounding the local lab on Thursday, saying she would need to be briefed on the details.
As for COVID-19, Notley says the NDP agrees with the government that another lockdown would have downsides.
"(Issues) with younger people and schooling in terms of their mental health and their education, and also, of course, the consequences to the economic slowdown. So we want to try to avoid that," she said. "But we think there are more things we could be doing to avoid that.
"This government is … sleepwalking into the second wave, and they're simply trying to pretend that it's not a real crisis."
She reiterated calls for Premier Jason Kenney to adopt the federal government's contact tracing app, and for better turnaround on testing across the province. Notley believes testing protocols in Alberta have been good but additional staff should be hired to increase the capacity for testing and to get results faster.
"It's lovely that the premier could get his results within four hours" when he did not need it that fast because he was already in isolation, said Notley.
Notley also says emerging information is showing problems with AHS's COVID notification for schools. She says gaps up to four days are occurring between the time a parent notifies the school that their child has tested positive and when AHS informs the school of the same positive test.
"The school cannot take action and inform people, and do their own contact tracing, and deal with the people who have been exposed, until they're informed by AHS," Notley said.
Notley acknowledged that during the first wave the province had enough room and space to treat people if the numbers had climbed, but was critical of government's delay in protecting those in long-term care. She says Alberta had the benefit of watching what happened in B.C. but still did not act quickly enough, adding that staffing levels should have been increased, even moving some AHS staff to LTC settings. She also said a premium should have been paid to staff sooner than it was.