Benz's former coach reflects on him fondly
Posted on November 3, 2020 by 40 Mile Commentator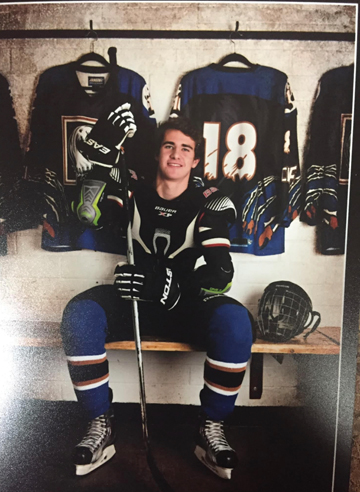 Austin Benz was killed in a single-vehicle car accident in Ontario on Oct.22.
By Justin Seward
Commentator/Courier
Former Redcliff Minor Hockey player Austin Benz died in a single-vehicle car accident on Oct. 22 in Ontario.
Benz's former coach Ryan Schmiedge spoke about what the defenseman meant to his teams in the 12 years he coached him.
"He was a really good kid," said Schmiedge.
"(He) lead by example. He wasn't a super skilled, flashy kid. But he was a hard working, physical hockey player. He was a good kid to have on the ice."
Benz's leadership qualities did not go unnoticed.
"Austin, in the 12 years I coached him, he probably wore a letter three or four of those years and lead by example," said Schmiedge.
"He always included everyone. It wasn't that 'I'm better than everyone else.' It was always a team effort with Austin. Like my son would say 'If there was a social gathering, if Austin was there, you knew it was going to be fun time.'"
Schmiedge says if anyone attended a midget game at the Redcliff arena, there is one corner where anywhere between 50 and 100 Eagle Butte High School kids would watch a game.
"He was always known for having a big hit in that corner and that 100 kids jumped on their feet all the time," he said.
"That's probably what he'll be remembered for is his big hits and entertaining everyone on and off the ice."
Both Schmiedge and Benz finished up on the bench together in the 2018-2019 season.
An etransfer donation can be sent torrdreger@telus.net with the password Austin or a Go Fund Me page has been set up at https://www.gofundme.com/f/please-help-the-benz-family/share.
All the funds go back to the family.
Benz travelled out to the Ottawa area to work on windmill construction this summer.