BIMH president recognized by Hockey Canada
Posted on November 3, 2020 by 40 Mile Commentator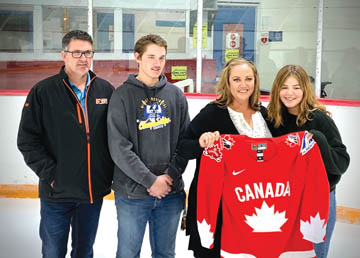 Photo submitted by Chantel Timmons Everett, Dacey, Chantel and Keely Timmons were on hand for the Champion Award recently in Bow Island.
By Justin Seward
Commentator/Courier
Current Bow Island Minor Hockey president Chantel Timmons was recognized for her outstanding efforts recently to the organization.
Timmons was the recipient of the Hockey Canada Champion Award from Hockey Canada and Scotiabank.
The monthly award-which started started this year- recognizes an individual who is making a significant impact to the game in their communities
Timmons has put in over 20,000 volunteer hours in 13 years for BIMH.
"Initially I was shocked," said Timmons.
"But it truly does 'take a village,' so humbly I accept the recognition on behalf of the entire community and volunteers. I cannot and have not done this alone and have many board members and players to thank along the way."
Timmons' husband Everett nominated her.
"Apparently he's noticed a few times throughout the past 13 years just how much time I spent putting into the BIMH program," she said.
" I found out via a Zoom call with Jennifer Robbins from Hockey Canada, CEO Rob Litwinski from Hockey Alberta and Ryan Hurley from the Hockey Canada sponsorship group. When they all came on Zoom call, I was a little shocked, but I knew something was up.
Timmons says she is not sure what has kept her coming back to the arena or it just never lets her go.
"Either way, the reason I do it and spend so many hours on it is for the kids," she explained.
"(It is) 100 per cent the only reason I do this and can honestly say it's trying sometimes. But seeing the smiles on the faces of all those kids coming back for their first practice of a new season or their first practice ever, is truly the best feeling ever. Knowing I had a big part in making hockey happen for them is a really good feeling."
Timmons' started coming to the rink when her son, Dacey, started lacing his skates up at the age of four.
"My son started playing as a four-year-old and I remember having so many questions and having a hard time understanding the commitment it would require, but he really loved the game right from the start," said Timmons.
"As parents we do what makes our children happy, (it)teaches them some lessons along the way and makes them good people- hockey does that. Dacey played for a year and then I was approached about sitting on the board by another board member so I thought 'why not give this a try,'-13 years later I'm still here.
She has two kids in hockey including her daughter,Keely, who has three years left in the game and Dacey is in his last hockey campaign.
"The future for me is unknown, but for now I will enjoy all the levels of hockey and just being in the rink watching all 'my kids," said Timmons.
She says between her board's help and support from her family as the reasons why she comes back to the arena every year. Timmons received a Hockey Canada jersey, Scotiabank prize pack and a video feature on their involvement in hockey.