Holsom Equine to provide horse rehabilitation treatment
Posted on November 3, 2020 by 40 Mile Commentator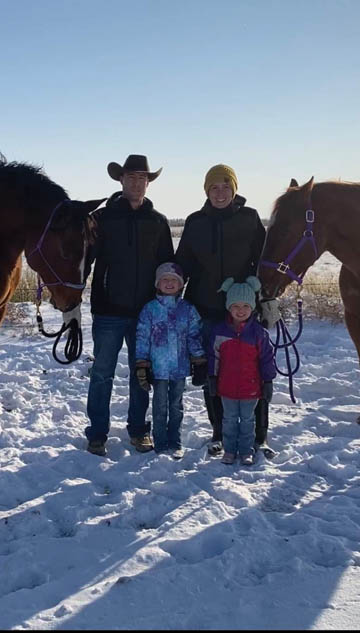 HELPING HORSES HEAL: Jerrod and Hilary Blanchette along with daughters Kate and Tessa will all be involved in the new Holsom Equine business starting next month.
By Justin Seward
Commentator/Courier
Hilary Blanchette grew up on the family ranch south Suffield and it was her dream to open her own equine facility one day.
It was in 2008 that one of her barrel racing horses got hurt and she used a horse rehabilitation facility near Ponoka and that was where her interest peaked for opening a similar business.
Now come December she will open her own equine rehabilitation facility called Holsom Equine.
"It's always been a dream and finally this spring, I really pursued it," she said.
"In July, I created my company and my corporation and decided to finally open the facility."
Blanchette competes in barrel racing across Alberta and Saskatchewan circuits and has done gigs such as the Grand Entry for the Medicine Hat Exhibition and Stampede and 4-H.
"I've just always had horses that I really like to keep in top shape and treated them almost like a pet more than just an animal," said Blanchette.
Holsom Equine will offer a saltwater spa, which Blanchette says is high salt concentrate and acts as a poultice and helps the horse's inflammation, laminitis, tendinitis, arthritis.
A saltwater treadmill will also be offered with or without water and will be used for the horses' general fitness.
"It's almost like a horse gym, which aids in joint flexion, you can improve performance, and I can also increase the amount of water I put in it to help with buoyancy," said Blanchette.
"So for horses that are coming back from an injury, say if they have a lower limb injury, you can add more water to help them get in shape-kind of like aqua-size for humans."
A UV and IR ray solarium will also be constructed at the equine facility to help with pre and post workouts.
"It helps with muscle elasticity, blood flow and reduces lactic acid in horses," she said.
Horse owners will be able to either drop in or drop their horses for one to two weeks or a month.
The spa and treadmill are coming from Denmark and Iceland and are expected to arrive by Dec. 15.
Blanchette is hoping to have the equipment installed by the end of December and have horses come in for day use.
Then by early January, she will offer packages for people to leave their horses.
Blanchette said the closest facility is up around Carstairs and there really isn't anything similar to this facility in the southern part of the province.
"It's definitely a needed service for this area," she said.
"We have lots and lots of equine people between barrel racing, rodeo, jumping, and reining. There are lots of different disciplines in this area."
Blanchette is the sole owner, but will have the help of her husband Jerrod and two daughters Kate and Tessa.
"My husband will be working on lots of the maintenance and my girls love giving the horses treats. You'll find them with their hand in the cookie drawer always feeding the horses a treat," he said.
Masking will be required in the barn and it is preferred if people drop off their horses and leave and come back and pick them up.
More information can be found at http://www.holsomequine.ca or on Facebook and Instagram
Holsom Equine is located off the Holsom Road in Cypress County at 35-12323 Range Road 72.