Big Marble Farms takes over marketing for Red Hat Co-operative
Posted on November 11, 2020 by 40 Mile Commentator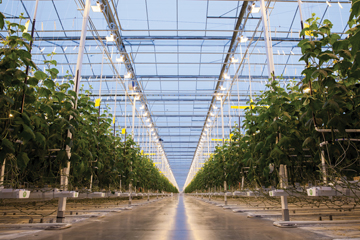 NEW DIRECTION: Big Marble Farms and the Red Hat Co-operative will now operate under one brand. This is a picture of Big Marble Farms from the inside.
By Justin Seward
Commentator/Courier
The Red Hat Co-operative will now brand under Big Marble Farms as a part of a recent marketing change.
Big Marble Farms President Ryan Cramer says the decision was made by the board in April 2020.
The announcement was made public near the end of October.
"Before that we did some testing in the market place with Sobey's/Safeway stores and with Costco," said Cramer.
" We had put the Big Marble Farms brand into those retail outlets and tested to see how it was received. But not only that, just the overall direction of the marketing with my involvement with something that we were trialing with those stores and we had seen the success of it and in April of 2020 we decided to flip all of the branding to Big Marble Farms."
Cramer emphasized the produce being sold in Alberta and the Prairies will be sold in a different package under the Big Marble Farms brand.
"I think at any point in time a brand has to look at their marketing initiative and decide whether or not it's time for a change," he said.
"After 54 years of doing it a certain way and especially under the Co-op model-the Red Hat being a Co-operative and marketing as such-it was time to look at what others were doing across the country and it was time for a fresh new look."
Cramer reiterated the Red-Hat Co-operative is still lead by their board and the marketing direction will be conducted by Big Marble Farms.
"The Red Hat facility in Redcliff continues to operate as it's always done," said Gillian Digman, Red Hat Co-op general manager.
"But now with Big Marble Farms driving the marketing and the new brand is a recipe for success really and we're all excited for the future." Digman is hopeful with this change that there will be more expansion in the greenhouse industry and as result will be able to employ more local people.
The move will allow for Big Marble Farms to keep pace with B.C. and Ontario
"We're stronger than ever now because of a modern, fresh brand with the drive behind it to remain relevant and stay with new fresh ideas," said Cramer.