Redcliff's skateboard park project to resume construction in 2021
Posted on November 11, 2020 by 40 Mile Commentator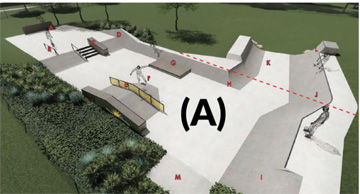 Photo submitted by the Town of Redcliff A conceptual sketch of Redcliff's new skateboard park.
By Justin Seward
Commentator/Courier
The Town of Redcliff's skateboard park project is on pause until spring of 2021.
New Line Skate Parks Inc. told the Town in a meeting last week that they had other projects on the go that were already delayed due to the COVID-19 pandemic and weather in other places.
"All-in-all, they felt they lost nine weeks of production time over their regular schedule," said Derrin Thibault, Town of Redcliff's director of community and protective services.
"They are working on other projects throughout the winter months. But they had to push ours out."
The project did break ground on time back in August with the piping in the ground and the shaping of the streetscape and the bowl area of the skatepark.
"The pipe is sticking up out of the ground there for them to do their next pieces of work," he said.
"They just never got back to start in on the forming."
Thibault says it's not great on the delay.
"The Town hasn't had a skatepark in forever," he said.
"And so waiting another four months doesn't really bother us. I would (have)liked them to have met their schedule."
Thibault expects to get another update in January.
"They have said we are the very first group that they're going to come to in the spring," he said.
New Line has offered the town some free grant opening support, to bring in professional skateboarders to host an event as well and a free skateboard bench and donated garbage reciprocals for delaying the project.