No rest for the Fogerty family- even during quarantine
Posted on November 17, 2020 by 40 Mile Commentator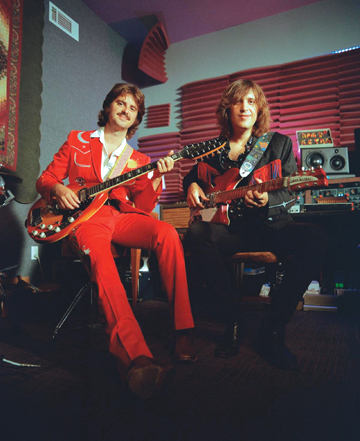 Shane and Tyler Forgerty from Hearty Har and Fogerty's Factory.
By Stan Ashbee
Southern Alberta Newspapers
Legendary singer, songwriter, and Creedence Clearwater Revival veteran rocker John Fogerty and his family are set to release a new album created while self-quarantining together featuring John and his sons Shane and Tyler, and daughter Kelsy.
What was released earlier this summer as a digital EP has now become a full album release. "Fogerty's Factory" is set for release Nov. 20 and as a vinyl set Jan. 15, 2021. The collection features the Fogerty family singing selections from John's iconic songbook plus some classic covers, including "Lean on Me," "Have You Ever Seen The Rain," "Bad Moon Rising," "Fortunate Son," and "Proud Mary."
Wanting to share with their fans, a new video was released each Friday, as part of a special YouTube series and the fans loved it, eagerly waiting each week to hear John's classic songs re-imagined.
John explained, "When the world stopped in March due to the pandemic, the news was bleak and scary. We were all unsure of everything we once knew or took for granted. However, it also brought many of us together, we soon found we had time we never had before. Our family wanted to do something that might bring a smile or help others."
"In our family, music has brought us so much joy and we thought we could somehow share that joy in a pure, unscripted form. So, we gathered in our home studio and created music. There were many instruments the kids picked up for the first time, especially Kelsy who had just started playing guitar and even played drums for the first time. She was a senior then and wasn't able, like so many, to enjoy her last year of high school. This was a wonderful way of connecting with our family and fans through music," John added.
With "Fogerty's Factory," Shane and Tyler said fans can expect a family in quarantine performing stripped-down versions of some of their dad's classic hits.
"Maybe more true to the original tempo of the original record. We had a great time with it. It was on every week of this quarantine over the summer. We were just getting together, learning, and going through the songs and a couple of covers too."
Creating and sharing during a time of crisis and lockdown definitely shows ? if you have the ability to record at home ? simply, do it.
"Showcase what you can do safely with the family or people who are around you daily," the brothers noted.
"People seem to have responded to that really well, which was kind of surprising at first. Why would they want to see us play these same songs over and over? But, it's different and it has a unique family feel to it," they joked.
According to Shane and Tyler, the two brothers have always liked music, but it wasn't until they were teenagers, they started to get more into it ? discovering music, with a desire to play instruments.
In addition to performing with their dad in Fogerty's Factory, Shane and Tyler also have their own band, Hearty Har ? with a new release also on the way. The Fogerty brothers have been working under the Hearty Har moniker since 2012. The 11-track "Radio Astro" includes a plethora of musical diversity from garage rock lava lamp shimmer to the psychedelic blues.
Even though "Radio Astro" has been years in the making, the brothers feel the album feels fresh and is their "truest effort to-date" ? "Our true debut album," the brothers said.
"We're proud of it," said the brothers, about the new album ? which was recorded with a couple of friends. "It feels really homegrown and unique to our voice."
"It's rooted in rock and roll and a little bit of soul," they pointed out, adding the release is inspired by a variety of musical influences. "It's pretty expansive, as an album."
"The plan is to keep recording and keep playing music," said the Fogerty brothers, since the live music scene and the traditional touring of an album is not possible during the pandemic.
"It's kind of what we've been doing the last couple of years. We haven't gotten to tour yet, which is kind of a bummer. But, we know how to make records, so we'll keep doing that and hopefully we can tour," they added.
Both albums will be available to stream on Spotify, YouTube, Apple Music, and other platforms. Two singles, including "Scream and Shout!" and "Boogie Man," have already been released from Hearty Har.