Britain still mum on future of Suffield tanks
Posted on November 24, 2020 by 40 Mile Commentator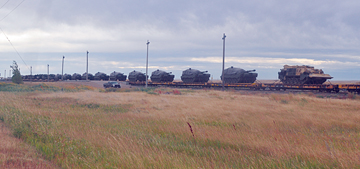 British tanks are moved from CFB Suffield down to the railroad tracks beside Highway 1 in this September file photo. Still no decision has been made by Britain on the future of the aging fleet.--SUBMITTED PHOTO
By Collin Gallant
Alta. Newspaper Group
A decision on Britain's aging tank fleet that trains near Medicine Hat was left out of Thursday's announcement in London of major increases for shipbuilding and modern warfare projects.
Instead, questions of how the army might pay for billions of pounds needed for those modernizations will reportedly be determined in early 2021.
British Prime Minister Boris Johnson said Thursday that major naval, cyber and even outer-space investments in a four-year financial package worth 16.5-billion pounds (C$21 billion) for the Ministry of Defence will "end the era of retreat."
The Integrated Review, outlined by Johnson, is meant to pivot Britain's military toward potential future threats.
For land forces, that includes new robotic equipment and drones plus artificial intelligence research, and, for the Royal Navy, a shipbuilding program to protect domestic industry and potentially add 40,000 new jobs.
No decision was made on reported discussions to mothball the U.K.'s fleet of 227 Challenger II battle tanks rather than upgrade the machines that were new in the mid-1990s.
That includes about two dozen tanks stationed at CFB Suffield near Medicine Hat, where armour training has taken place for four decades.
This month Canadian command at the base revealed to the News that the sprawling facility will not host BATUS manoeuvres in 2021 again after this year's deployment was cancelled due to the coronavirus pandemic.
Canadian officials have said they expect tanks, which were shipped this fall for training in Britain, to return in 2022.
In London, Johnson brushed aside concerns that his government is about to abandon pledges on overseas aid in order to pay for the overall program.
In an address given remotely, the prime minister said the armed forces will receive 16.5 billion pounds ($21 billion) over and above the government's earlier plan.
"For decades, British governments have trimmed and cheese-pared our defence budget, and if we go on like this, we risk waking up to discover that our armed forces, the pride of Britain, have fallen below the minimum threshold of viability," Johnson said.
"Based on our assessment of the international situation and our foreign policy goals, I have decided that the era of cutting our defence budget must end, and it ends now," he said.
Since the end of the Cold War in the early 1990s, Britain, like many other Western countries, cut defence spending. Even as the U.K. was deeply involved in the wars in Afghanistan and Iraq, its armed forces have faced further budget cuts in the past decade from as successive Conservative governments following the global financial crisis.
Johnson said the defence funding will "restore Britain's position as the foremost naval power in Europe" and "spur a renaissance" in British shipbuilding.
Political leaders gave a guarded welcome to the announcement, including Keir Starmer, the leader of the main opposition Labour Party. He wondered where the money was coming from at a time when public finances have been battered by the costs associated with the coronavirus pandemic.
Some in government have argued for a reduction in the commitment to maintain aid spending at 0.7% of national income to 0.5%, which could free up billions of pounds for use elsewhere.