Coats for Kids Campaign continues on in 2020
Posted on November 24, 2020 by 40 Mile Commentator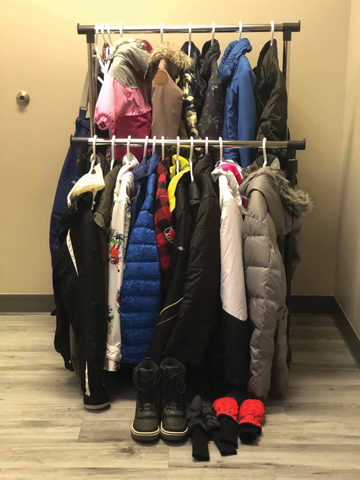 Photo submitted A sample rack of coats available during the Kids for Coats Campaign.
By Justin Seward
Commentator/Courier
Redcliff's annual Coats for Kids Campaign is in full swing for another year.
The campaign sees the town accept gently used coats that in turn can be picked up by families who are in need of warmer clothing during the winter months.
"We began taking coats in October and it will run as long as there is a need," said Carla Spampinato, The Town of Redcliff's FCSS co-ordinator.
"Donations can be dropped off until mid December, but we won't turn away a coat."
Spampinato says the campaign is in need of more plus sizes.
"We haven't noticed a greater need so far. Ideally we would like to push to receive and distribute coats while it's mild and before the weather turns," she said.
She says this campaign is one that is easy for people to contribute to every year.
"From year to year many of us have coats we've outgrown and it is easy to drop them off at Town Hall and pass it on to someone that doesn't have the means to purchase a coat," said Spampinato.
Visitors to Town Hall have to sign in ,social distancing protocols will be in place and only one family will be in the space with the coats at one time.
The coats can be picked up and dropped off Monday to Friday from 8 a.m. to 4:30 p.m. at Town Hall.