County of Forty Mile's Meals on Wheels program off to a great start
Posted on November 24, 2020 by 40 Mile Commentator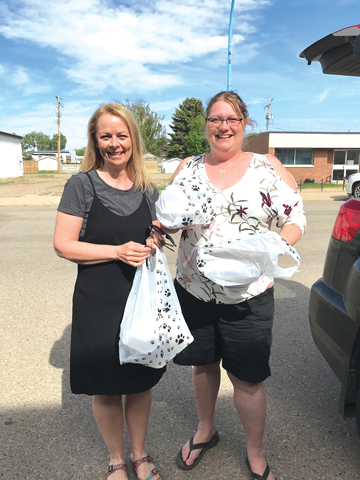 40 Regional FCSS executive director Corinna Roth-Beacome and Terri-Lynn Arnal delivering food as a part of the Meals on Wheels program earlier this year.
By Justin Seward
Commentator/Courier
The County of Forty Mile's Meals on Wheels program came to fruition back in March and has been well received amid the COVID-19 pandemic.
The program started in the county as a result of COVID and the 40 Mile Regional FCSS identifying those seniors not comfortable coming out of their homes.
"It really started with COVID and that initial conversation with the United Way of Southeastern Alberta about we have some funding, how can we help you." said Corinna Roth-Beacome, 40 Mile Regional FCSS executive director.
"And brainstorming with them and recognizing this was a need in our community."
The program provides healthy meals to seniors.
"For the south side of the county, so Foremost and that area, there hasn't been a Meals on Wheels program for many years," said Roth-Beacome.
"It was great to get that activated again and be able to support definite rural residents. We stretch all the way from Orion to north of Bow Island for rural people. The recipients are quite happy with it."
The program originated with receiving the first grant from the United Way of Southeastern Alberta followed by the EQUS utility company and the Rural Community Fund of Forty Mile.
The total funding reached $24,000 with those grants.
"That has allowed us to be able to offer this in a way that for some of those lower income seniors, it just means that they have food security and nutrition and aren't being taxed or heavily hit financially," she said.
Meals on Wheels have fed upwards of between 15 to 16 clients.
The FCSS has intake application and covers if a senior has a medical condition, struggling with mental health or have physical issues that prevents them from making a nutritional meal themselves.
"Some of them are afraid really to go out," she said.
"We did have one client who told us that they've been living off of macaroni and cheese because the wife had really been struggling with health issues and wasn't able to cook and the husband didn't really know how. The first meal we took to them, they broke down and cried, because she literally just told him you'll have to make a peanut butter sandwich because I just can't make anything today. It's been very impactful for those families and those individuals that are really struggling."
Roth-Beacome says there is intake to take a few more seniors.
Seniors can be signed up by calling the FCSS offices in Foremost at (403) 867 -2766 or Bow Island (403)545-2200.
The Meals on Wheels program goes from Monday to Friday and the seniors choose how many meals they would like.
The food is purchased from local restaurants.
"Moving forward we would like to put a huge shout out and thank you to all the community volunteers who have come on board to help deliver these meals because without them we certainly wouldn't be able to offer this program," said Roth-Beacome.
The program will be a good for cash for at least at few months.
"Funding is sitting Ok until mid 2021 and then at that point we will look at doing some fundraising to try and keep the program going," she said.
The program is looking for more volunteers to drivers to deliver the meals.