Yanchycki follows in Terry Fox's footsteps to help raise money for cancer research
Posted on November 24, 2020 by 40 Mile Commentator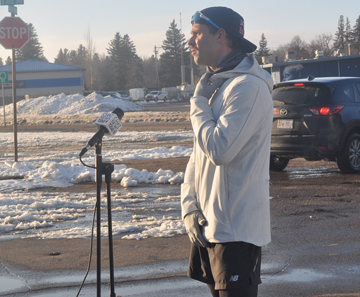 Tyson Yanchycki spoke to local media about his five-day run for cancer research at the end of the journey in Medicine Hat on Nov. 18.
By Justin Seward
Commentator/Courier
The year 2020 has been a symbolic one for Tyson Yanchycki.
This year marked the 10 years of Yanchycki's testicular cancer diagnosis and on the morning of Nov. 14 he laced up his runners and ran an almost cross-Alberta run from the Crowsnest Pass to Medicine Hat-which ended on Nov. 18 in the Gas City- to raise awareness and funds for cancer research through the Terry Fox Foundation.
"This year I lost my Uncle Bryan "Cameron" Bell (who was a Boston Marathon qualifier runner) to cancer and within that 10 year time period I also lost my grandma to cancer. So it's definitely something that is near and dear to my heart," said Yanchycki.
"My son, he turned one this year, and I needed to do something for them. I was online and my aunty posted a photo of her and the boys at the Terry Fox Run, and that kind of peaked my interest in regards to them, and kind of learning what they're all about. And kind of learning about Terry and what he believed in and what he stood for."
He had only been training for 11 months prior to the run and like his uncle got in to Boston Marathon qualifying shape, which is a sub-three hour marathon.
"I entered three marathons, which all got cancelled due to the pandemic. I needed to do something else for him," he said.
"I've always loved ultra running. I've just never really done it myself. This was kind of putting my foot in the door."
The 324-kilometre trek took him five days and he was often asked about why he chose a cooler month to do the run.
"Cancer is a disease that is completely unpredictable. It can come at the best time of your life or the worst time of your life," said the Lethbridge resident.
"There's nothing more unpredictable than an Alberta November. It could be minus 20 and blizzarding like it was last week or plus 20 and beautiful- that's a chance I took and it was great. (And) running through the mountains, there was snow and it was it was gorgeous- you've got the sun- and just the whole way, it was beautiful."
Sore legs were the only challenge he faced along the way.
"After the first day when we (Yanchycki's running partners Kyle Larson-Pendock ran 21 kilometres and Ryan Thornley ran 27 kilometres with him respectively) pushed almost 100 kilometres, (I) definitely did something to the back of my knee. There was bruising and that kind of stuff," he said.
"The only obstacle is managing the swelling and managing the pain."
In learning about the Terry Fox Run, Yanchycki learned that Fox used cancer to fuel his passions and he wanted to do the same.
"(It) allowed him really to express himself. He didn't let it bring him down and he didn't let it be a detriment to his life," he said.
"He used that fuel to inspire others. I think that's the greatest thing and the Terry Fox Foundation is non-profit and all the money raised goes to general cancer research, and that's what means the world to me."
Online donations have been set up through the Terry Fox Foundation at http://www.terryfox.ca/radiatinglove.
He received a couple of in-person donations along the way.
Over $9,200 has been raised towards the $20,000 goal as of Nov. 19.