County of Forty Mile Food Bank taking cash donations
Posted on December 2, 2020 by 40 Mile Commentator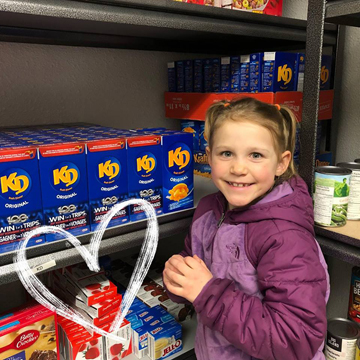 By Justin Seward
Commentator/Courier
The County of Forty Mile Food Bank says the simplest donation that they can take right now is cash.
"We are a charity," said Rob Van Roessel, food bank president.
"We have no real source of income other then people's donations. Food is more complicated (as) more restrictions come (in)- people getting closer to one another and everything else. (The) simplest thing is we get cash donations for things and we can spend them and minimize the amount of transactions for us."
Van Roessel says the Food Bank can still take food but it becomes more complicated because the organization is trying to ease the social distancing by not handling as much food or collect food and restocking it.
The Food Bank had a successful second quarter of 2020 to allow for stable funding for the rest of the year and into the Christmas season.
"We had a pretty good public display of generosity through the second quarter," said Van Roessel.
"The actual hamper activity was little low in the second quarter and donations were too, but that's fine because we got a lot of money help in the second quarter."
Normally, the Food Bank is open 50 weeks out of the year and closed two week corresponding with the school break at Christmas.
"That's more for the sake of our volunteers,"' he said.
" (It is) because we only pack hampers once a week on one day, that we' don't have people juggling too much of their Christmas schedules. If people need it, we kind of encourage them to ask for a hamper at the beginning of December or during that time. If it's an emergency we will find a few people to put some hampers together if necessary between the Christmas and New Year time."
He does not anticipate any challenges with getting food to people in need at Christmas time during COVID.
"We've tried to make it as easy as possible for somebody to make a contribution," he said.
"It's a small town still, we're not completely isolated from each other. I think people usually find a way if they want to make a donation."
Van Roessel is uncertain as to whether the demand will be there this year or not.
"It's tough to make projections," he said.
"We sometimes do and are completely wrong. We just try to be prepared for whatever happens. If the community is in good shape then we're happy and if the need is high in the community, we want to be prepared to meet that."
Cash or cheques can be dropped off to Van Roessel by contacting him at (403) 952-0873 or by e-transfer at 40milefoodbank@gmail.com or to 40 Mile Regional FCSS executive director Corinna Roth-Beacome at the FCSS offices in Bow Island or Foremost.