Hidden Valley Ski Repsort decide on Dec. 18 as opening day
Posted on December 2, 2020 by 40 Mile Commentator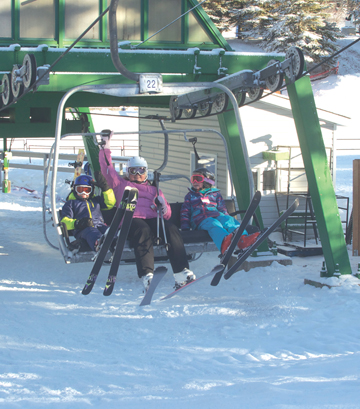 Commentator/ Courier File Photo Theo and Yolanda Marx, along with Carly Kaempel, came all the way in from Moose Jaw to enjoy the sunshine on Hidden Valley Ski Resort's opening day on Dec. 16, 2017. The ski season for 2021/22 is in jeopardy as the hill sits in limbo awaiting a private operator to take over.
By Justin Seward
Commentator/Courier
Skiers will be able to hit the slopes at Hidden Valley Ski Resort on Dec. 18 after a decision was made Thursday to push the date back.
"There are a couple of reasons," said Mike Ractliffe, head of visitors' services for the Cypress Inter-provincial Park. "Obviously we got the new set of restrictions coming out for the province. It doesn't affect us that much, but there are a couple of adjustments that we're going to have to go through to get approval for.
"We've got the weather aspect as well. We're looking at warmer temperatures – not being able to make snow quite as much – so we wanted to give ourselves that little bit of extra space, so we could make sure we could get as much of the ski hill open as possible."
While the final plan is still awaiting approval from Edmonton, skiers can expect restrictions in the Lodge.
"Essentially it will be used for eating and going to bathrooms only," he said.
There will be no storage of equipment, and no viewers or spectators can sit and watch their families.
Ticket sales – including season passes – will be done online at skihiddenvalley.net.
Ractliffe says the ticket system should be up and running by the end of the first week in December.
Lessons will be done in a different format and will need to be booked in advance.
"Once they've secured a day ticket, they would then call for a lesson," he said.
The number of people allowed on the hill is currently being reviewed with the new COVID restrictions.
"Within the industry, there is a little bit of confusion as to where a ski hill sits under," said Ractliffe. "Is it retail, is it recreational facilities, is it community facilities? So there is a little bit of clarification required on that."
As for the eating area, the ski hill will be following the already implemented guideline of no more than six at a table from the same household, and there will be a reduced menu.
Face coverings such as neck buffs and neoprene face masks will be mandatory across the resort, with the exception of coming down the hill.
Ractliffe anticipates a pretty steady flow of traffic once the hill opens.
"And judging by the social media feedback that we're getting as well and seeing that people are actually keen to have things to do outside," he said. "I would probably say that, yes, we're not anticipating being busier but steadier."
Visit skihiddenvalley.net or the Sky Hidden Valley Facebook page for updates.