Western Tractor to build new County of Forty Mile dealership
Posted on December 8, 2020 by 40 Mile Commentator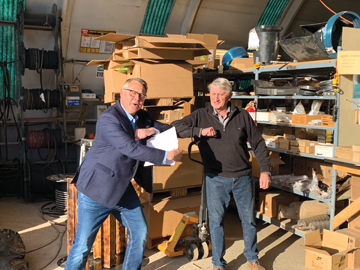 Photo courtesy of Western Tractor Western Tractor president Steven Dyck and Tony Varekamp bump elbows to officially announce the new dealership being built on Dec. 1.
By Justin Seward
Commentator/Courier
Western Tractor in partnership with Varekamp Farms announced on Dec. 1 that a new dealership will be built at the corner of Highway 879 and Highway 3.
The new 22,000 square foot dealership will be built on 10 acres of the Varekamp Farms that was purchased by Western Tractor.
The new facility will replace the existing Burdett location.
The new facility will be modern, clean, all-in-one building and maintain a higher level of inventory, says Steven Dyck, Western Tractor president.
"This particular region is extremely important to us," said Dyck.
"We have a very strong customer base here that has remained very loyal to us as a John Deere dealership. This is the longest standing dealership in all of Canada's John Deere fleet. We've just simply outgrown the current location and we want to be able to grow and add more technicians that can continue to look after our customers."
The dealership will also have a 10 bay service department and have the ability to carry more equipment.
"Our goal is to move from eight technicians to 12 technicians over the next couple of years. So that'll create some opportunity for employment in this region-which is great," said Dyck.
Dyck says Western Tractor has more than doubled the size of their business in this region over the last 10 years.
"That has put a lot of constraint on our existing location and I think we've seen more opportunity for that growth as we moved ahead," said Dyck.
The Varekamps had been a long time supporter of John Deere even before Western Tractor was formed.
"They were very loyal customers to John Deere and Green Power," said Dyck.
"We have been going back and forth with Tony for a few years now and we had been building other buildings and he always asked when we're going to build one for Burdett. There had been all sorts of rumours over the years as to whether we would close down the Burdett facility."
The two sides had been talking for several months on the deal.
"Together, I think it's (an) important thing for the community-for the Burdett and Bow Island area- for the people who are working at the Western Tractor location at the moment-the local mechanics and sales people, said Varekamp.
"We want to keep them here. We don't want to see that Western Tractor is going to leave. It's a hard time to find a good location for them. We came to an agreement that they can buy 10 acres from us. The benefit (is for) Western Tractor first of all (and) Varekamp Farms also. But also our fellow farmers. Everybody is benefitting from this because we need-especially the year we live in now-some optimism."
He has been a John Deere supporter since moving to Canada over 50 years ago from the Netherlands.
Depending on how the approval processes go with the County of Forty Mile, the hope is to start construction in the spring.
The target opening date is November 2021.