Annual Candy Cane Run spreads some Christmas cheer
Posted on December 15, 2020 by 40 Mile Commentator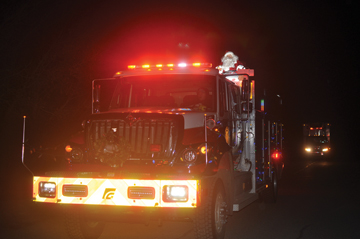 Top: Santa Claus rides the fire truck during the 31st annual Cypress County Fire Department Candy Cane Run in Seven Persons on Dec. 12.
By Justin Seward
Commentator/Courier
The 31st annual Cypress County Fire Department Candy Cane Run-which is ran by the Seven Persons fire station- was held on Dec. 12 with a different look in order to adhere the COVID-19 guidelines.
In previous years, firefighters would go door knocking in the hamlet and wish residents a Merry Christmas while collecting food donations for the Medicine Hat and District Food Bank.
Now this year, Seven Persons residents were asked to leave the food donation at the front door for collection.
"They can watch us from a safe place inside their house," said Justin Derzaph, Seven Persons fire station chief.
" (And) of course following all of our safe distancing practices as well-even between the members. The food bank truck will be on hand-we'll be manning that for them- and it'll be minimal contact with the donations that we pick up directly in to a Medicine Hat Food Bank truck."
Other changes included one firefighter per truck and family or friends that want to join the Run will have to do so in their own vehicles behind the parade.
"It is important because I feel the way this (COVID-19) has affected everybody in Medicine Hat and surrounding areas in our communities, those that are able to do something like this just to aide and help in that because there is a larger need than ever on the food bank and our communities," said Derzaph.
The Candy Cane Run still had some bright spots for people to enjoy.
"Santa will be there to wish everybody a Merry Christmas again from a safe distance," he said.
Firefighters also handed out candy canes to as many people as possible.
Derzaph anticipated having 50 to 60 per cent of the department's members out for the Candy Cane Run so social distancing could be used to a maximum and contact to an absolute minimum.