Barnes looks to be appointed minister of autonomy
Posted on December 15, 2020 by 40 Mile Commentator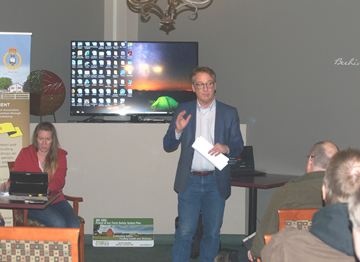 File photo
By Justin Seward
Commentator/Courier
Cypress-Medicine Hat MLA Drew Barnes sent a letter to Premier Jason Kenney a month ago to let the province know about his interest in creating the minister of autonomy and holding that position.
"I absolutely believe that Alberta should be the freest, most prosperous place in North America," said Barnes.
"When you look at the fact that our arrangement with Ottawa has prevented resource movement, has inhibited free trade and the fact that since 1960, Alberta has $670 billion more to Ottawa than we've received."
"The idea behind the minister of autonomy is to start to look at the things that Quebec has- the things Alberta can do itself to gain greater autonomy-and get some leverage with Ottawa. Things like our own police force, collecting our own taxes-our own pension would have huge financial benefits to Alberta businesses, free enterprise employees and to Albertans."
Barnes noted that it has been 20 years since former Prime Minister Stephen Harper, Ted Morton and Andy Crooks penned the famous firewall letter-an open letter to then Alberta Premier Ralph Klein from the Alberta Residents League to exercise the province's constitutional rights- and nothing has been done.
"In that 20 years, Alberta I think has sent $250 billion to Ottawa-so the financial drain still continues," said Barnes.
"And even it's been a year now since I was asked to be on the Fair Deal Panel and none of those ideas have been implemented either."
Barnes says Alberta has never had this minister position.
However, Barnes highlighted that Saskatchewan appointed former agriculture minister Lyle Stewart to be that province's minister of autonomy a month ago.
"I think Alberta should follow Premier Moe's lead and I think Alberta should appoint me," said Barnes.
Barnes received a letter back from the Premier's office saying the intergovernmental affairs minister is taking responsibility.