Local fitness centre, bakery reacts to newest COVID-19 restrictions
Posted on December 15, 2020 by 40 Mile Commentator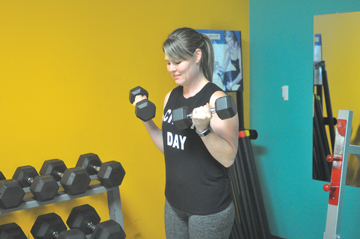 Commentator/Courier File Photo Stretch Fitness' Lisa Neustaeter anxiously awaits for gym goers to come through the doors as the fitness centre reopens June 16. The gym will be forced to close again for four weeks on Dec.13.
By Justin Seward
Commentator/Courier
The provincial UCP government announced a whole host of new COVID-19 restriction on Dec. 8 as the number of cases are on the rise across Alberta
Included in those new restrictions were the closure of fitness centres, restaurants and cafes for at lease four weeks starting on Dec. 13.
"It's just very discouraging now knowing if we could survive another shutdown" said Lisa Neustaeter, owner of Bow Island's Stretch Fitness Center
Neustaeter says to an extent they were prepared for a shutdown this time around.
"Not financially, but mentally physically, I would say yes," she said.
"I could see us possibly coming out of it again. If we don't get that (government) support, then I'd say it's going to be a pretty good hit."
The fitness centre has the rental spaces in the building for income and all those businesses-with the exception of the chiropractor, who is able to stay open by appointment only with the new restrictions- will have to close.
"It caught me off guard because maybe it was just denial- I was hoping it wouldn't," said Neustaeter.
"Last time they would shut down other businesses before us-like we were one of the last ones-so I don't know if I was anticipating the same thing. But it did catch me a little off guard."
She disagreed with her small town fitness centre having to close for a second time during the pandemic.
"The city ones that are really busy, I could probably see, but for us I can't really see that because we're small town and we hardly ever have 10 or more people in here at the same time," she said.
"Which to me is different and should be considered. We have very minimal members compared to city gyms, but I don't wish that upon them either. I guess it's one of those things we don't really have a say or control over."
Neustater's hope is the government supports the small businesses financially and not just on conditions.
"That's why we didn't initially file for the business loan because there's all these conditions attach to it, "she said.
"We were very lucky to come out of the first one (shutdown) without having to take it. But if this only four weeks and the government support us financially, then I think we should be able to come out of this one as well. But if they extend it again from four weeks to two-and-a-half months, I honestly don't know what that's going to look like.
The Rolling Pin Bakery will have to shut their doors for dine-in and will only be open for take-out service and will encourage curbside pick up.
"Obviously this is another huge hit to us to close all in-dining service again and it's a huge hit for our employees as well because we can't provide them with hours they need- especially around Christmas time," said Eva Loewen, Bakery co-owner with Nella Wolfe.
"We had a feeling it (an announcement) was going to come down again. We didn't think that they (the provincial government) were quite done with giving us the restrictions for Christmas time. In some ways yes we were anticipating it, just not looking forward to it."
Loewen says the bakery has had to adapt to more online marketing because people are not coming in as much.
"We are looking into a system for online ordering for easier accessibility for people to order their food," said Loewen.
"I guess we're really just looking for the community support through this difficult time."
A link for the online ordering will be posted to the Rolling Pin Bakery Facebook page once it is up and running
She anticipates this time around that service will be a little bit higher because people know more about what is going on with the COVID-19 pandemic.
During the first shutdown back in the spring, sales went down 50 per cent and some days less than that, she added.
The Bakery will be taking a three-week Christmas Break and hopefully be open again after the lockdown is over.
"I think frustrating in a lot of ways because we try to comply with the restrictions as much as we can," said Loewen on a second shutdown as a small business owner.
"It seems like nothing is satisfactory for them. Especially as new business owners-it's only our second year of business- it's definitely been a difficult hit for us."
The province announced last Tuesday that a Small and Medium Enterprise Relaunch Grant would be available and offers up to $20,0000 in financial assistance for businesses, cooperatives and non-profit organizations that were ordered to close or curtail operations and have experienced a revenue reduction of 30 per cent during the pandemic.
The threshold was changed to 30 per cent from 50 per cent
Applicants must show April or May 2020 as a demonstration of their 40 per cent loss in reduction.
More information on the grant can be found at Alberta.ca.