The year it was in Bow Island and the County of Forty Mile
Posted on January 2, 2021 by 40 Mile Commentator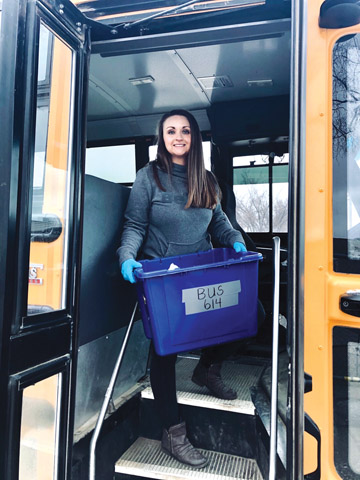 Submitted Photo Nikki Hollingsworth helping with packages for Foremost School students on the bus.
By Stan Ashbee/Justin Seward
January 2020
Bow Island Mayor Gordon Reynolds submitted an article to the newspaper and the headline read, "Bow Island mayor sees things getting back on track in 2020." While there is some uncertainty around provincial funding to municipalities, I still have a positive outlook for our community in 2020. The cuts to municipalities in the fall budget were relatively small, but I anticipate there will be more pain this spring. The pending requirement for us to pay for policing will have a $37,000 impact on the Town's next budget and those costs will rise by 200 per cent over the following three years. In the meantime, for 2020, council will likely approve another fairly aggressive capital budget utilizing reserves and what grant funding we know is available. We knocked down our debt this fall by paying off the debenture on the Airport Industrial Park with money from lot sales.
The cannabis/hemp developments in the airport subdivision have been slowed by delays in Health Canada licensing and some nervousness about the industry as a whole on the part of investors. These local projects currently look like they will get back on track this coming year. The new bulk water fill the county installed at the airport should be commissioned any time now. This spring, work will get underway to rebuild the runway and lighting at the airport. The Town has secured a very sizable grant for this project that will be a great benefit for us all ― but especially for the agricultural community.
Senator Gershaw School has had a greenhouse for over a year and wanted to expand their knowledge by adding a composting initiative to the fold for the facility. Fortis Alberta recognized the school as an Environmental Ambassador last week with their commitment to the environment and was the recipient of a $1,000 green UP grant to help with composting material for the school. "We have the greenhouse and it's like OK how can we enrich the soil and also how can we reduce the amount of garbage we're sending out," said Scott Angle, school principal. "It's pretty obvious landfills are getting full. Our hope is we can educate our students on how to reduce some of that waste." There are compost bins inside the greenhouse and the students will take the school's waste and enrich the soil in the greenhouse, he added. Angle said the initiative will run across both Senator Gershaw and Bow Island Elementary Schools.
The Bow Island Elks Club will celebrate a milestone with its upcoming 30th annual dinner and auction fundraising event. With tickets already sold out, the Jan. 25 dinner at the lodge will bring together roughly 200 members of the community for an evening of fun, food and auctions in order to support a thriving service club that injects piles of money back into the community. "It's our main fundraiser for the year," said Elks Club member Cody Thierman. "One hundred per cent of the money raised goes back into the community. The club has raised hundreds of thousands of dollars over the years. It's quite a bit every year and it's funded entirely by the community."
At a time when many service clubs are struggling to find new, younger members, Bow Island Elks boast more than 80 members, with several in their 20s, 30s and 40s. Thierman said interest and dedication is strong in Bow Island because the local region is full of individuals and businesses with an understanding that supporting your neighbours enhances the entire community. "It's an extremely active Elks Club." The Bow Island Elks Club donated more than $70,000 back into the community last year alone, supporting everything from Meals on Wheels, 4-H Clubs and the food bank, to HALO, the hospital and local sports teams.
Water haulers in the County of Forty Mile will be enthused to hear the new bulk water station by the Bow Island Airport will be open in February. The last thing to be installed was a meter by Fortis Alberta on Jan. 16. "Now we're making schedules to finish up the commissioning of it. It's all constructed, then we needed the power to get things running," said Stewart Payne, County of Forty Mile utilities manager.
The Foremost/Bow Island Flyers peewee hockey team breezed through their competition, going undefeated, en route to winning the 32nd annual Curtis Kerner Peewee Memorial Tournament for the third time in the past five years in Bow Island. The orange and black's closest game was in the finals where the boys beat Magrath 10-4. "I thought the kids played really well," said Jon Hollingsworth, Flyers head coach.
February 2020
On Jan. 31 in Coaldale, Sunny South Lodge resident Jania Krenzke received the royal treatment, as the Queen, the Prime Minister of Canada and provincial and local dignitaries sent happy birthday messages to the 100-year-old. Family and friends gathered to wish Jania the best, ate cake and played bingo.
Jania's daughter Heidi said her family was one of the first farmers to be granted "Farmer of the Year" in the Bow Island area, way back when. "She came from Ponderay, so Foremost. She came to Canada in 1950. She married my father and they were actually the first ranch in the Ponderay area." Heidi noted her mom was quite involved in the area's Ladies Aid and she always had a huge garden. "Nobody ever left the place without flowers or food. She always worked outside. When dad died, she had to take over the farm with my brother, so she kind of lost touch with doing anything because she was too busy."
Syrian mother Najah and her three boys Yo'rob, Asad and Ayham Brimo have settled into Bow Island nicely since arriving in the town back in November after being in Lebanon as a refugee family for eight years. The opportunity was made possible when Shayla Hopkins started the Bow Island Refugee Committee in August and with the help from the Mennonite Central Committee through Canada's Blended Visa Office-Referred Refugee Sponsorship Program, the family was able to start a new life in Canada. "Things have been pretty good," said Hopkins, committee member.
"They were pretty excited when they picked them up at the airport, pretty happy to be here. They've been really appreciative. The boys are in school and I think they're enjoying being at school. "The mom is in English classes and that's been going well. They've been improving their English." The boys attend St. Michael's School.
Prairie Rose School Division's (PRSD) superintendent Roger Clarke hosted a public consultation for parents and teachers at both Senator Gershaw and Burdett Schools on Feb. 10. The consultation included an overview of the school district's Capital Plan and what PRSD would be asking from Alberta Education for an influx of money for either modernizing the Burdett School building, adding additional space at Senator Gershaw and Bow Island Elementary or a brand new Burdett School.
Burdett School was built back in the 1950s and there are signs of its age with mechanical and electrical problems. "Burdett is our number one capital item," said Clarke. "When we looked at that item we started to analyze where the kids are coming from and three-quarters of the kids that attend Burdett School currently, 226 kids, come from outside the Burdett catchment area. I think 155 of those 226 were actually busing out of the Bow Island area. They should be going to schools in Bow Island." These are Mennonite families that have chosen the modality and educating in Burdett to be together as one group, Clarke added.
Bow Island Town council voted not to pursue a bid for the 2022 Alberta Summer Games at their Feb. 10 meeting. Furthermore to the motion, the Recreation Advisory Board will investigate sources of funding in order to submit an application for a future year. "The Recreation Advisory Board wanted to pursue hosting the 2022 Alberta Summer Games and once we looked into the financials in a little more depth, we found there's a very little revenue generator directly to the Town for hosting the games," said Dave Matz, Town of Bow Island chief administrative officer. "And some of these smaller towns like this host it, they put money aside for a number of years and they do some fundraising efforts in order to have funds available to actually operate the games and host them." Matz said it is a process they have not proceeded with yet. "Council has sent this back to the Recreation Advisory Board and they're going to discuss it and determine if they want to pursue that and maybe talk to some local businesses, and see how much interest there is going forward and making another attempt in the future in hosting the games, " he said.
A big item the provincial government and the recent Alberta Health Services (AHS) review proposed was a significant rollback of services in their agreement. The decision allowed UNA (United Nurses of Alberta) members province-wide to hold information walks or rallies earlier this month, according to the UNA's second vice-president. Bow Island nurses participated in the event Feb 13. "Nurses were wanting to draw attention to the public about our concerns surrounding the detrimental effects those cuts would have on patient care," said Cam Westhead, UNA's second vice-president. "I guess particularly in small towns, often times hospitals or health care facilities can be one of the larger employers, and a very good place for people to access services or emergency rooms. Some of the recommendations in the AHS review considered consolidating services like emergency rooms … so this could have a very significant effect on the services Bow Island and areas have come to expect and they deserve."
The Town of Bow Island was recently served a summons ― which identified alleged violations to the "Code of Practice for a Waterworks System consisting solely of a Water Distribution System." There were a total of seven counts, with five against the Town and one against the Town and a former Town employee and another against another former employee. These counts referred to circumstances that arose during the years of 2014 through to 2017 and were brought to the Town's attention in 2018 and focused directly towards the operation of the Town's distribution system and in relation to the Code of Practice.
"These charges are in no way related to the water treatment plant ― which is owned and operated by the Highway 3 Water Commission with the M.D. of Taber, as managing partner," said Mayor Gordon Reynolds. "As soon as issues were identified by the Town staff and management in early 2018, staff worked closely with Alberta Environment and Parks (AEP) to identify historical practices and took steps to achieve full compliance."
March 2020
While the Bow Island Health Centre (BIHC) was left off the list of rural hospitals to be closed in the recent Alberta Health Services review, it is believed by a local group the possibility of closure is not out of the realm of possibilities just yet. There has been a concentrated effort by over 100 concerned taxpayers to address the urgent concern regarding the BIHC. Roundtable discussions with AHS management, phone calls, letters and MLA meeting presentations to Town council and the County of Forty Mile have been, for the most part, unsatisfactory.
Sheila Stearns, a member of the Bow Island Stakeholders group, says the group was surprised in Bow Island and the surrounding districts who had no idea what was happening. "Right now, we're on their radar. They have acknowledged we are fighting to keep our hospital," she said. "We need to keep it front and centre, so a way larger group is having input and making themselves heard. There are stakeholders there every day, all day taking anecdotal notes and we will just keep re-submitting and showing there is a need." Questions posed to Verna Yiu, AHS' president and chief executive officer, included why is BIHC currently struggling financially with a skeleton staff — as it was under local governance, and it was not that long ago that BIHC was provincially-rated as the second most efficient hospital of its size.
Dustin McGarry, County of Forty Mile fire chief said there was a lot of confusion when the province announced they would be cutting the Fire Services Training Grant in its recent budget. The confusion was whether or not the grant was immediately cut or if there was another year left of funding. "We have received a grant for the 2020-2021 year," said McGarry. "The grants will be paid out this year and we will continue training using the grant throughout the 2020 year. This year, we won't be seeing any changes. We will be training in full-force and continue to increase our training and provide a high level of training to our firefighters and service to our residents."
McGarry said next year is when the grant will be completely cut and smaller municipalities with limited budgets will be greatly affected. "It will impact levels of service, firefighter training and potentially firefighter's safety and will make it a lot harder for us to keep up with what we require," said McGarry. He noted what he sees affected is the amount of training fire services can complete in one year. "Just relying on the county budget won't allow us to train as often. It won't allow us to do as much proficiency training and will limit our basic bread-and-butter-type courses." The county's fire services will continue to utilize the training budget from the municipality.
Blues at the Bow has suspended all operations indefinitely. The organization was getting ready to host Colin James for a show in mid-March, but due to COVID-19 regulations, was forced to reschedule the show. No date is set, but the group is looking toward a potential November date to play it safe.
"Colin cancelled his entire western tour," said Blues at the Bow president Jason Riddell. "We're only a 240-seat venue, so we were cautiously hopeful, but we saw the writing on the wall. "We were at the theatre getting it ready for the show, but we tried to be realistic." Riddell said the Colin James show was going to be the biggest show ever for the venue, so it was crushing to see it cancelled. "It was tough, but we understand," he said.
In wake of the COVID-19 pandemic, Bow Island's Pleasant View Lodge seniors home is only allowing "restricted" visitors during these uncertain times. "Our residents at Pleasant View Lodge are at extreme risk and effective immediately to the pandemic, we are restricting visitors to essential visitors only. That would be like doctors, nurses and EMTs," said Karen Waldbauer, administrator at the lodge. With the residents not being able to have a physical visit with family, Waldbauer said they are encouraged to phone each other and there is a grocery drop-off in the entry way. "Our door is locked and they ring the door bell and we deliver the groceries to people who are wanting (them)," she said. Staff is doing the extra activities. "Staff (is) doing it instead of outdoor people coming in," said Waldbauer.
Foremost School students will be receiving their learning content every Wednesday through a couple of methods. For the out-of-town students, paper packages will be delivered in the middle of the week and all families have been lent Google Chromebooks if they need a piece of technology in the house. "All families have access to at least one piece of technology, either their own or through the school," said Simon Moreton, school principal. Deliveries will be made through bus. "We've got eight buses. We're running four in the morning with our EAs on the bus and the bus driver," said Moreton. "They are driving to the families that still require these packages. They are opening the door, laying the package down and then the family comes out and collects the package." There are also four buses in the afternoon that do a run. For those students in town, they can pick up their packages at the school.
April 2020
Prairie Rose School Division was a part of all the school divisions across the province affected by the recent funding cuts announced by the Alberta education minister Mar. 28. It was announced during the COVID-19 pandemic funding for transportation services, substitute services and education assistants is being temporarily reduced — while in-class remains the same. "What we received notice on was a 14 per cent grant reduction in (a) base grant for the months of May and June and that has impact on some of our staffing levels," said Clarke. In terms of the 14 per cent reduction in base funding, the impact on PRSD is $431, 442.

PRSD consulted with their school principals in budgets that would have otherwise been allocated to their buildings to help if they needed to and worked with support staff to see where layoffs could be. As a result, the school district avoided substantial layoffs for May and June. "We have 40 people who will be laid off from Prairie Rose and it will work in their lives," said Clarke. "Instead of laying off 128 EA people, it will be around that 40 number. It will work for them; they can be at home and access other financial supports through federal programs." PRSD saw a significant percentage cut in the transportation sector. "The second area was the funding for transportation and that was 51 per cent reduction funding for the months of April, May and June," he said.
The Province of Alberta has requested each municipality to provide deferrals of utility payments during the COVID-19 pandemic. Town of Bow Island council directed administration recently to not apply penalties or disconnect services for 90 days from Mar. 31 through May 31 billings. All utility accounts are eligible for the deferrals, while any late payments will not be accessed during this period.
The Foremost and District Fire Department are looking to create a little cheer for certain age groups with birthdays during the COVID-19 pandemic. The local firefighters are offering a free birthday parade past your house for Village kids.
Forty Mile councillors began their new meeting routine by discussing municipal topics during an online live session April 8, as the COVID-19 pandemic continues to hit worldwide. "That was a new experience for us," said county Reeve Steve Wikkerink. "Especially with being on live, anybody could come on at any point and just listen in. But people are always welcome to come in and sit in council meetings too. It's kind of the same thing." "I think as we do a few more of these virtual meetings, I think we're going to get more comfortable with them," he said.
The Bow Island running track modernization project is nearly complete and the track's committee chair hopes the final few touches will be done sooner, rather than later. "There's a little bit of cleaning up of the actual track surface itself, just getting rid of any low spots, any cracks," said Scott Angle, running track committee chair.
"They're probably coming to do that (this week) and the landscaping work both on the inside and outside of the track is going to be completed.
Although he does not have a timeline, he hopes the lines are painted on "sooner than later" and landscaping be done in the coming weeks. "Ideally, I hope the whole track project wraps up at the very latest end of June," said Angle.

Angle said the track is getting used a ton right now because there's not a lot for people to do right now.
May 2020
The Olds College Broncos awards night was held via social media between April 17-28. Bow Island's Garren Oosterhuis was a part of one of those social media mentions, as he was the recipient of the Rookie of the Year award for men's soccer. "I think it's great," said Oosterhuis. "It's a great honour and responsibility for the team moving forward in the next years to kind of prove anyone coming from a small town, it doesn't matter what your background is, if you work hard good things really do happen." With a full season under his belt and winning this award, it meant a lot to him moving forward with his confidence. "It's a huge boost of confidence," he said. "It proves (to) me what I have been telling myself the whole time, I do belong in this league and I am an influential player throughout the league."
HALO air ambulance service could cease operations if they do not get the provincial funding support they need to operate. As per the release sent out, HALO will be forced to scale back operations to the single-engine helicopter as of June 1. The service will be limited with the single-engine helicopter for a period of 30 days. If government investment is not obtained and the public relations funding campaign is not successful, then all operations will cease July 1.
Paul Carolan, CEO for HALO air ambulance, spoke further to the announcement with the Commentator. "We're in (a) situation where we haven't had the benefit of provincial (investment) since the very beginning of our program, and as a consequence, we don't have the same reserves other programs have (in) the province," said Carolan. "We are unable to weather the impact of COVID-19. Something I think is really important and I really want to be clear about, however, is COVID-19 is the catalyst for this announcement — but it's not the cause. The cause is the lack of provincial investment in an essential service in southern Alberta. And for pennies on the dollar, compared to other programs in the province, the province could invest here and we would be able to provide incredible service for as long as the future allows." HALO will undertake a public relations campaign in an attempt to save the program.
Foremost has not taken any substantial measures amid the COVID-19 pandemic. "As taxes are usually due Sept. 30, and following the Government of Alberta requirements, we have not gone forward with any type of program with these. Utilities are being dealt with on a case-by-case basis. The residents can apply to the Village for a 90-day deferral," said Mayor Lorne Buis. Taxes will not be affected because those funds are needed for the daily operations of the Village, he added.
Village council has been busy focusing on the list of shovel-ready projects for if and when they do happen.
"Council and our staff have been busy updating the projects the government requested to be submitted as shovel-ready, and are hopeful some or all of their projects are approved and can go forward," he said. Buis said most of the businesses were deemed essential and a few will be hit hard by the pandemic.
The 40 Mile Regional FCSS (Family and Community Support Services) has become a valuable resource, as the COVID-19 pandemic has moved along. Between the Bow Island and Foremost offices, FCSS has been able to assist clients on a regular basis with their Employment Insurance, Canadian Emergency Response Benefit or other federal funding people may be eligible for. FCSS has also served those looking for employment. "We have continued to assist people looking for work and employers that have job positions available for people because they live in agricultural communities," said Corinna Roth-Beacome, 40 Mile Regional FCSS executive director. "We know there are still some employment opportunities. So we are assisting people with resumes and try to connect them with potential employers."
FCSS continues to support the local food bank and connect those individuals, families and the vulnerable population with food safety and security. "The food bank reaches the entire County of Forty Mile," said Roth-Beacome. "We have reached out to the far rural south area in delivering food hampers to residents out there, as well."
June 2020
Town of Bow Island council voted to get on board to provide funding to HALO air ambulance next year. "We made a motion last night (June 22) to provide funding in our 2021 budget at $10 per capita," said Bow Island Mayor Gordon Reynolds. The town's contribution will work out to $20,430. "That would be reviewed again going into the next budget. We didn't feel comfortable at this point in time making a long-term commitment, based on our own finances."
However, the funding is contingent on the provincial government providing funding to Halo, he added. "There's absolutely no doubt HALO has become an important and necessary part of emergency response in southern Alberta," said Reynolds.
McCain Foods, Western Tractor and J.E.B Transport teamed up for a Free Fry Day fundraiser for HALO air ambulance on May 29. The event saw McCain give out 7,500 bags of free fries at Western Tractor's Medicine Hat, Burdett, Taber and Lethbridge locations — as cars drove through the parking lots, while HALO volunteers had buckets out to take donations for the local air ambulance service. The event anticipated to raise $100,000 for HALO between corporate and community donations, but that number went upwards to $320,000 by the end of the tour.
"We're so unbelievably grateful and blessed to be a part of the southern Alberta community," said Paul Carolan, HALO's chief executive officer. "You can't underestimate the generosity of the people in this part of the province. They really stand behind things they believe in. We're overwhelmed at the support we've received today and we left the goal for fundraising today in the dust and surpassed it by three times."
Senator Gershaw's 2020 graduation class will get a ceremony after all on Friday.
With the countless meetings held by the grad committee and in consultation with the students, the Grade 12 grads will walk the stage outside in front of the school with family in attendance. "We're going to hold an outdoor grad in front of the school," said Danielle Gruninger, the school's grad co-ordinator. "It's kind of going to be like a drive-in.
While students will not be wearing their caps and gowns, they will be wearing their formal wear and will be handed their certificates by their parents, as they cross the stage, "The Grand March will be from the stage to the front of the school," she said.
Every student will be allowed to take two vehicles to grad, she added. "We're going to have a monitor so people can watch and transmit all audio through FM," she said. The ceremony is going to be live-streamed. The grads will then do a parade after the ceremony.
July 2020
People who live between Taber and Burdett got the long-awaited news on their part of Highway 3 being twinned July 2. Alberta Premier Jason Kenney was in Taber to announce the $150 million Highway 3 twinning expansion project to the 46-kilometre stretch between Taber and Burdett. "This project is part of our government's $10-billion economic recovery program. We need to build, diversify and create jobs following the largest financial hit in Alberta's history," said Kenney. "These projects lay the foundation for the private sector to create thousands of well-paying jobs for workers — while creating many spinoff benefits for Alberta, including making communities more attractive to businesses looking to relocate. A strong highway network is vital to create jobs, spur economic growth and get Alberta back on track to economic recovery."
The twinning project is expected to break ground in 2021 and create 755 jobs that will drive the economy and diversification in southern Alberta. Bow Island Mayor Gordon Reynolds is the vice-president of the Highway 3 Twinning Development Association and he could not be more thrilled about what the highway improvements will mean when the project is completed.
After 35 years as a member of the Bow Island Fire Department, Blaine O'Donnell is now the fire chief of the town's fire station. It was made official June 23 when Town council made the motion to appoint O'Donnell as BIFD's new fire chief. "I think first off, I would like to thank Kelly Byam (previous fire chief) for 30 years of dedicated service personally and from the department," said O'Donnell. "I find it a great honour to be chosen as the new fire chief by council and the fire department."
Folks at the County of Forty Mile have been busy with the construction of the Regional Water Treatment Plant and Regional Pipeline. "A little more than a year ago we tied Etzikom into the regional supply. This month we're completing the tie-in to the Hamlet of Manyberries," noted Stewart Payne, County of Forty Mile utilities manager.
According to Payne, contractors have been on-site to complete the construction of the pipeline. "The pressure testing is done and the inspection is done. Now, we need another contractor. There's multiple contracts involved in this large project," Payne said. Now, Payne added, another contractor will show up and commission some high-pressure pumps to get the supply to Manyberries. "That's going to occur tomorrow (July 9). " Once the high-pressure pumps are commissioned, operational and working with comfort, then next week (as of July 8) the county will test the connection to the Hamlet of Manyberries, Payne explained.
"After we're satisfied the connection to the hamlet is good, operational and working without issue, we will flush the hamlet's distribution system and officially tie the hamlet into the regional supply," said Payne. Payne said the next step is to expand connection to the hamlets of Orion and Nemiscam. "We're hoping to have that completed this year — working with engineers, as we go."
On Dec. 1, 2019, Whitla Wind 1 — located in the County of Forty Mile — began commercial operations. Construction of the facility began in September 2018 and was completed "on schedule" and "on budget" within its $315 million to $325 million target, it was stated on the Capital Power website. In December 2017, Whitla Wind 1 was one of four successful wind projects that was awarded a 20-year contract by the AESO in the first round of the Renewable Electricity Program — which attracted global competition.
At the end of 2019, Capital Power announced the development of Whitla Wind 2. The 97-MW facility is expected in 2021.
Whitla is actually three phases of a project located in the Bow Island and Foremost area in the County of Forty Mile, said Jerry Bellikka, director of government relations Canada for Capital Power. "When it's done, it will be the largest wind project in Alberta at 354-MW." "The first phase, Whitla 1, we've already constructed and we built last year and it is in full-operation now. It's a little over 201-MW," Bellikka explained. "Whitla 2 has been approved, but we are applying to extend the deadline to the end of next year, rather than the end of this year. We are going to build Whitla 3 at the same time." Bellikka said the County of Forty Mile is not a fiscal partner on the project, but the county has been a very good community partner to work with.
While recreation opportunities may be limited due to the COVID-19 pandemic this summer, the Town of Bow Island decided to introduce pickleball a couple weeks ago for players young and old. Pickleball is a paddleball sport that combines components of tennis, badminton and table tennis together. Local pickleball organizer, Lowell Leffler, said between a few local players playing down south in the winter, seeing the game grow down there and cutting down on travel time to Medicine Hat to play factored in to starting a program in town. "Basically the only other option we had right now was Medicine Hat or Lethbridge," he said. "And because there's quite a few of us that play down in the states when we go in the winter time, we just thought this would be great, and the arena isn't being used in the summer time. It was a perfect fit. We'll be able to stay there until they put the ice in at the end of September."
August 2020
Local calf roper Clark Hughson was at the Foremost Rodeo Grounds July 28-29 to teach 15 young riders about the basic skills of break away and tie down roping. The six-time Canadian Finals Rodeo qualifier said it was important to host an event for the kids because it was a chance to teach them how to rope. "I'm very happy with the interest and kids are wanting to rope," said Hughson. "I'm doing my part to help out and it's good to see." Hughson taught the kids about handling their ropes properly, riding their horse and working on the basics.
More than 1.6 million masks will be distributed to 740,000 students and 90,000 staff in Alberta schools, as the safety item is now mandatory for certain grades as per an Aug. 4 announcement. Staff and Grade 4-12 students will wear masks in settings where physical distancing can't be maintained. Those areas include hallways and common areas. Each staff and student will receive two reusable masks each. Mask wearing is optional for Kindergarten to Grade 3 students.
The Foremost Ag Society, in conjunction with the Foremost Agriculture Centre committee, are working on exposing more local agricultural events — as well as working on a business plan in hopes of breaking ground on a proposed indoor riding arena within the next couple of years. The project has raised $80,000 between various fundraisers and private donations. The Hougen family donated the 15-acre land that is located three kilometres south of the village. The business plan is expected to be complete in the next couple of months. The plan will include a budget, where the project is at in a certain phase and gathering support letters from potential user groups.
While the "Support Local — Stay Local" initiative has been in place since Alberta's Phase 2 beginning, Bow Island Mayor Gordon Reynolds wants to remind residents of the efforts local businesses have been doing to keep people supplied amid the COVID-19 pandemic. "For those businesses that were closed down during the first phase, (now) that are re-opened, we want people to come back and support them," said Reynolds. "But definitely to continue supporting the local businesses and recognize how important they are."
A group of chief UAV (unmanned aerial vehicles) pilots/research assistants from SAIT (Calgary's Southern Alberta Institute of Technology) were at Foremost's UAS BVLOS Range over the last couple weeks working with the Switzerland-based SDO50V2 Swiss Drone. The model is the first of its kind in North America, as the SAIT program was able to bring the unmanned helicopter system that has a superior endurance and payload capacity over from Switzerland last year. Its capabilities include flying for three hours on the turbo-jet engine, lifting 40 kilograms of payload and has several redundancy control systems to improve safety of an operation.
Allen Kuizenga had finally seen an idea come to fruition after 10 years of discussion in July. He was able to establish Diamond Sun Farms south of Burdett — where the operation started by planting four types of potatoes, including red, yellow, Diamond Baker and Russet Burbank this year. "The potatoes, we have enough to supply quite a few restaurants already and people," said Kuizenga. There is 12,000 tons of potatoes for French-fries over 30 acres, he added. Those potatoes are garnered towards the French fry market. The farm was able to purchase and sell garlic from a nearby farm for this year. The plan is to multiply the garlic seeds over 10 acres in 2021. "You always wonder if it's the right time," said Kuizenga.
"I think with COVID now, and with the price of groceries in the stores going through the roof for no apparent reason and people wanting to jump on the locally-produced bandwagon, now is a perfect time to do it. People can't drive as far anymore, so that we can deliver." Kuizenga added the farm-to-table concept — which is a social movement that promotes serving local food through direct acquisition from producer — is wonderful.
September 2020
Senator Gershaw and Bow Island Elementary's first week of school could not have gone any better according to principal Scott Angle. "It's gone as smooth as it could possibly go, considering the safety items that need to be put in place, the new routines and following what our chief medical officer has put in place, said Angle.
"I'm very happy with the work the staff have done. Parents have been excellent and students have been really nice to work with regarding all the things we've had to put in place." The feeling was excitement by staff when they saw the students get off the bus and entering the school "This is why we do our jobs is so that way we can see students," he said.
The Community Foundations of Southeastern Alberta, through its rural chapter, the Rural Community Fund of Forty Mile, doled out funds through the COVID-19 Response Fund to two local organizations recently. Both the Etzikom Museum ($1,336.50) and Bow Island's Golden Ages Club ($5,000) were the recipients of the first cycle funding.
The Museum is going to use the money towards purchasing portable picnic tables and a hand sanitizer stand in order to reduce the risk of COVID-19 spread. The Golden Ages Club is using their funding for PPE (personal protective equipment), as a part of their re-opening strategy. Masks, hand sanitizer and additional cleaning needs will be purchased with the funds. The first cycle of funding for the COVID-19 Response Fund doled out over $119,000 to various organizations across the southeast Alberta region.
The third of three major wind farm projects announced last fall has been approved by Alberta's utility regulators. Rattlesnake Ridge, a 28-turbine facility that would be built near the hamlet of Whitla in the County of Forty Mile and related connection to the Alberta power grid was accepted by the Alberta Utilities Commission Sept. 9.
That facility, capable of producing about 118 megawatts of power in peak conditions, would see towers spread across eight sections of land when the developer completes the project, hopefully by late 2021
When it was announced in October 2019, it joined a flurry of new green energy projects in the southeast Alberta totalling more than $600 million in combined construction value. The expansion of Capital Power Whitla Wind farm and the Suncor-led Forty Mile Wind project were also announced that month.
Prairie Rose School Division students that choose not to go back to the classroom, can take advantage of the learning-from-home option. The learn-from-home option allows for students to join in for live-recorded meets and Google Classroom is being used to keep content organized for those families. The plan was developed after the College of Alberta School Superintendents had members all across the province discuss options over the summer.
The Westfield Growing Project saw 10 combines come out to harvest 50 durum bushels per acre over 160 acres Sept. 14. The money raised goes back into the Canadian Foodgrains Bank initiative of assisting with hunger worldwide. "This is the most community support we've had in years out here," said Deiryk Schussler, first year organizer of the event. Schussler hopes with that much equipment out for the harvest it's a start to a new revival of the event. Schussler took the harvest over this year from his Uncle Allen Schussler, who retired from farming. "It's a good cause," he said.
November 2020
Bow Island Minor Hockey President Chantel Timmons was recognized for her outstanding efforts recently to the organization. Timmons was the recipient of the Hockey Canada Champion Award from Hockey Canada and Scotiabank. The monthly award — which started this year — recognizes an individual who is making a significant impact to the game in their communities. Timmons has put in over 20,000 volunteer hours in 13 years for BIMH.
"Initially I was shocked," said Timmons. "But it truly does 'take a village,' so humbly I accept the recognition on behalf of the entire community and volunteers. I cannot and have not done this alone and have many board members and players to thank along the way."
While Bow Island/Burdett Chamber of Commerce did not host their in-person small business awards night, trophies were still dropped off to businesses. Bow Island Auto Service was recognized with the 2020 Business of the Year Award.
"We're pretty honoured and we're grateful to all of our customers for their loyalty," said Joe Torscher, who has co-owned the business with Lynn Degenstein for almost seven years. Torscher says their focus has been trying to give their customers quality and prompt service.
The County of Forty Mile council voted Steve Wikkerink in as reeve for the fourth consecutive year. "It means a lot," said Wikkerink. "Like I said to council at the organizational meeting after I was voted in — I very much appreciated working with our entire council. Our council has a great relationship together. We work very well together."
Twenty students at Foremost School in Grades 9 and 10 have been learning how to run a mask-making business for the last six weeks in their entrepreneurship program. "We went over the fact an entrepreneur is somebody that sees an opportunity and takes advantage of it," said Shane Hamann, entrepreneurial class teacher.
And with that, the entrepreneur students fittingly with the world health crisis created the Foremost School COVID Mask Company. Hamann started the students off with a small loan, bought them fabric and brought in a person to teach the class how to sew. "They decided there was an opportunity — since everybody has to wear a mask — to make masks and start a little company that way," said Hamann.
"Not one of them could sew at the beginning of the year. For the last six weeks, they've been learning how to sew masks and building up an inventory." The business has sold over 100 masks in two weeks of sales.
Some of St. Michael's School's Grades 7, 8 and 9 students took it upon themselves Nov. 6 to host a virtual Remembrance Day ceremony for their fellow peers. While students were kept in their cohorts, the school found a way to celebrate Remembrance Day in the traditional means with the moment of silence.
The Foremost Municipal Library Pumpkin Festival fundraiser went online this year from Oct. 30 to Nov. 6. The fundraiser was strictly an online auction this year due to COVID-19 and brought in close to $18,000 for the library's literacy programs and keeping the doors open for public use. "We were pleasantly surprised," said Stewart Payne, library board chair. "We were very pleased the community responded as they did. We had (fewer) items to bid on, but the support of the community was really appreciated." The total was down from the $22,000 to $23,000 in past years.
There were 200 items up for bidding this year, which was down from close to 600 items in past years.
December
Western Tractor announced in partnership with Varekamp Farms that a new 22,000 square foot will be built by November 2021 on Dec. 1.
"This particular region is extremely important to us," said Steven Dyck, Western Tractor president.
"We have a very strong customer base here that has remained very loyal to us as a John Deere dealership. This is the longest standing dealership in all of Canada's John Deere fleet. We've just simply outgrown the current location and we want to be able to grow and add more technicians that can continue to look after our customers."
The dealership will also have a 10 bay service department and have the ability to carry more equipment.
Bow Island Ace Hardware sales were up 30 to 35 per cent at the beginning of the pandemic and now sit between 20 to 22 per cent.
"It's been actually a bonus for us," said Robin Knibbs, owner of the hardware store.
"People have supported us locally. I can't complain a bit. It's slowed down a bit the last few months. But the first three, four months were just great."
On Dec. 8, the provincial government announced a whole host of new restrictions as a result of the consistent uptick in cases.
Local gyms and bakeries reacted to being shutdown for a second time this year.
"It's just very discouraging now knowing if we could survive another shutdown" said Lisa Neustaeter, owner of Bow Island's Stretch Fitness CenterNeustaeter says to an extent they were prepared for a shutdown this time around.
"Not financially, but mentally physically, I would say yes," she said.
"I could see us possibly coming out of it again. If we don't get that (government) support, then I'd say it's going to be a pretty good hit."
The Rolling Pin Bakery will have to shut their doors for dine-in and will only be open for take-out service and will encourage curbside pick up.
"Obviously this is another huge hit to us to close all in-dining service again and it's a huge hit for our employees as well because we can't provide them with hours they need- especially around Christmas time," said Eva Loewen, Bakery co-owner with Nella Wolfe.
"We had a feeling it (an announcement) was going to come down again. We didn't think that they (the provincial government) were quite done with giving us the restrictions for Christmas time. In some ways yes we were anticipating it, just not looking forward to it."