It was a year like no other in Prairie Rose School Division
Posted on January 5, 2021 by 40 Mile Commentator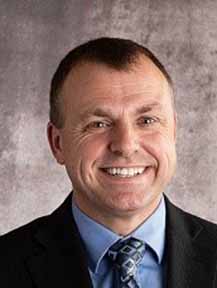 Commentator Courier File Photo Roger Clarke, PRSD superintendent,
By Justin Seward
Commentator/Courier
Prairie Rose School Division experienced a year like no other in 2020 after having to go through two separate province-wide school shutdowns amid the COVID-19 pandemic.
Schools were shut down in mid-March as the pandemic hit the province and students learned at home right until June.
"It certainly has been disruptive," said Roger Clarke, PRSD's superintendent.
"I think we've cared for kids the best we can- where we've had major timelines- where students have been learning from home. The April, May and June (were) particularly hard for people, I think. I mean one fortunate thing about that was (going) into summer, nicer weather, coming into those sorts of things where people- they feel like they're not necessarily as isolated as they might feel right now in the middle of winter."
Clarke felt the school division reacted quickly in the transition from the classroom to at-home learning.
"We had the announcement I think on a Sunday and I believe by Wednesday everybody was learning at home," he said.
"In other words, we weren't two or three weeks of getting kids set up and going-that part was good. It was dramatic and we didn't know how long it was going to be and it carried on. And looking back now, the challenge in that timeline was the expectations of learning at home. They weren't as strong as they could have been in terms of what could be expected from students when they're learning at home."
Students were back in classes at the beginning of September and went until Nov. 30-before the province announced on Nov. 24- students in Grades' 7 to 12 would be working from home and Kindergarten to Grade 6 would remain in school until the winter break that started on Dec. 18, 2020 due the uptick in COVID-19 cases.
All students would work from home from Jan. 4-8 before before returning to classes on Jan. 11.
The students were more prepared for the second shutdown.
"We were much more prepared," he said.
"We had more time to get to it as well when the government made the announcement. We had some time to react and said we had a number of days before this happens-so let's get ourselves even more prepared. From a Prairie Rose perspective, we made some decisions to prepare not only our staff but our students."
Chromebooks were purchased for Grades 4 to 12 students and as result those kids had technology at their disposal.
Despite the lingering pandemic, the school division has done well.
"It's been a long haul from a COVID perspective," said Clarke.
"I think the staff have been incredible for Prairie Rose. The staff have done an amazing job with respect to shifting gears and educating kids at home -where students who had to be home for a couple of weeks because they have been close contacts and shifting when the schools have been affected by COVID cases as well."
Clarke says that the schools reacted really well and put the safety parameters in place that they needed to.
"I think because of the hard work of our staff and the leadership in our schools, we had lesser COVID-19 cases than we might not otherwise had," said Clarke.
"We're quite proud of the fact we were one of the very few school divisions in Alberta that continued our sports program in the fall. We basically did a risk assessment and said you know we don't have many COVID-19 cases right now and if we do the right things and react appropriately-if and when we do- then we should be able to get(the) first season and we did."
Parents were very receptive to whatever was necessary to make sure schools stayed open, added Clarke.
"It wasn't always convenient for a lot of our parents when their kids had (to) stay home," he said.
"On the early part of the core symptoms, before we got clarity on that, any kind of illness would send kids home for an extended period of time. Prairie Rose was able to work with Alberta Health Services (AHS) to get that clarified."
PRSD had some learning experiences along the way.
"Some of our principals are learning about the operations of their schools and it's OK to learn- we always learn," he said.
Clarke emphasized students and staff needed to be cared about more and not to overburden one another to keep the motivation going through the pandemic.
"If there (are) any little items that you need to identify and say 'Look, they don't need to do that right now- they've got their hands full,'" said Clarke.
Clarke is looking forward to the COVID-19 vaccines to roll out, people having more mobility, less concern around personal safety and getting back to more of a focus on students in 2021.
Additionally, PRSD is eager to see how some of the new programs play out including the two U-18 Prep hockey teams that are based out of Eagle Butte High School, the partnership with Medicine Hat College and Medicine Hat Public School Division on the relocation of the outreach school to the college as Coulee Collegiate and the adult upgrading program.