Pahl signs National LOI to play at Minnesota school next year
Posted on January 13, 2021 by 40 Mile Commentator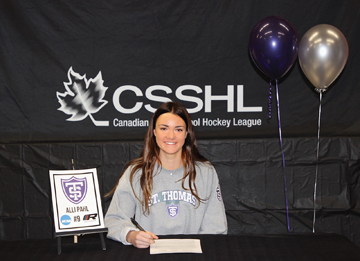 Alli Pahl signed her National Letter of Intent on Dec. 12.
By Justin Seward
Commentator/Courier
Cypress County's Alli Pahl will play NCAA Division 1 women's hockey with the University of St. Thomas-Minneapolis starting next fall after signing a National Letter of Intent (LOI) last month.
"I signed my NCAA National Letter of Intent on Dec. 12," said Pahl.
"(October) was kind of when things came in (to) play. They were in contact with me and we (Pahl's Kelowna, British Columbia RINK Hockey Academy club team) were able to play some games in the beginning of the year before Vancouver shutdown. We played UBC, Trinity Western University and the Delta Academy, and that's kind of where it started.  My coach was able to broadcast the games and practices- that's kind of where that exposure came from. UST reached out to me and we started talking and I loved what I heard. I had multiple phone calls and Zoom calls with the assistant and  head coach and was very excited to learn more about the program and I was really happy with what I heard."
The girl's RINK Hockey Academy played those university/academy teams because her team's season (Canadian Sports School Hockey League) was unable start due to COVID.
Pahl says it took two months before she committed to the Minnesota school.
"It was quicker than normal- especially with COVID going on," said Pahl.Pahl was also in discussion with other Division 1 Universities at the time and chose St. Thomas' scholarship offer over another from a school in Pennsylvania."The schools are kind of scrambling to get the players that they want to as soon as they could. But I had I don't know how many phone calls or Zoom calls with them to make sure they were the right fit because we weren't actually able to go down and visit. That was something that was  a concern, but we wanted to make sure we were doing the right thing."
Pahl had spoken to returning STU player Allie Monrean about her experience, about the team and the campus.
"She had nothing but positive things to say and that really helped me make by decision,"she said.
Pahl loved the athletic program, the facilities and the academics at STU during the recruitment process.
"I think just talking with the coaches about the program- I was very impressed- and (clicked) with the coaches during the interviews, which I think is a very important thing, being that you're spending so much time with them,"said Pahl.
"I really found that some schools didn't really value their athletics and academics equally. But with this school, they think the hockey is just as important as school. They support you in every way that they can to make you're being successful in both."
The former Redcliff Minor Hockey and Medicine Hat bantam AA player's goal was to obtain an NCAA Division I Scholarship and have the opportunity to move down to the States to play.
"It was definitely bang on," said Pahl.
" This is what I have always wanted to do and have been working for, for four years or more. That's what had in mind as my goal when I moved away from home to play hockey. That is what I wanted to do, and it worked."
She is looking forward to moving forward and starting this new chapter in her life with going to Minnesota to listen to coaches, make new friends and pursue her goals.
Pahl will enroll in a Bachelor of Science Degree, which in turn will lead her into chiropractic graduate school.
Pahl has used this unusual season to focus on what she wants to work on and be able to get better at.
"I think this year has been a big jump for me and I've really improved and became more confident in my game, and that's what kind of has gotten me to where I am now," she said.