Parkside School teachers speak about virtual classrooms experience
Posted on January 13, 2021 by 40 Mile Commentator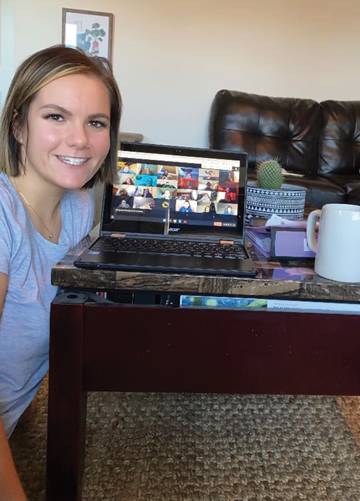 Photo submitted by Boyd Craven Kameko Ballantyne teaching her students through an online platform.
By Justin Seward
Commentator/Courier
Students and teachers have gotten accustomed to the at-home learning transition during the COVID-19 pandemic.
Students returned to class in September before junior high and senior high school students were sent home at the end of November-with the exception of Christmas break- for four weeks to do at-home learning due to an increase in COVID-19 cases.
The virtual classrooms were initially set-up back in March when a full shutdown happened and lasted until June.
The Cypress Courier spoke to a couple of Redcliff's Parkside Junior High School teachers about their experiences with the at-home learning.
"It had its pros and cons," said Brian Sloan, who teaches Math 9, Science 8, art and elective courses.
"I found that student attendance rate did improve a little bit-which was nice. I also found that it was easier for the students to share their understanding through the online platforms that we use-like through Google Classroom -and getting them to be more technological savvy was a bit challenging for the first couple of days. But then after the first few days, they really settled in to it nicely and did really well with it."
All Parkside students had access to chrome books at home at the beginning of the year.
Sloan says after settling into the online classes the first few days, the kids got used to having a routine.
"How we had it set up at Prairie Rose School Division, if we had class from 8:30 a.m. until 9:18 a.m., the students were with us from 8:30 a.m. to 9:18 a.m. on our video chat," said Sloan.
"So keeping that structure for the students I think was really important and really helped them stay focused and still have that desire to learn and be in the classroom, even if we weren't able to be in person."
He noticed with the at-home learning, students were more willing to participate in class-which was a positive from a teacher's standpoint.
"I found a lot of the students who were maybe quieter in class,they didn't feel as intimidated in an online classroom setting and they more willing to answer questions and more willing to ask questions if they didn't understand something."
As for keeping the students motivated during at-home learning, Sloan was able to use the same tools as if the students were in class such as showing and sharing a presentation through their screen and show little video clips that kept the students engaged throughout the class-which was more so used in science.
In math classes he would be able to use a virtual whiteboard to draw examples on for the students.
"I've been impressed with the variety of tools that have come about because of COVID-19, but I think we're fortunate to have this technology available to all of our students," he said.
A challenge Sloan faced was not being able to be with the students.
"They can be on there will their camera, but you can't just look over their shoulder to see how their work is going or just those little check-ins throughout classes are a little bit more difficult through the virtual classroom," he said.
Sloan added, "It's hard to give a test through a virtual classroom and you hope that the students do it properly, and not be texting each other or looking up answers on the internet."
Kameko Ballantyne teaches Grade 7 Language Arts and arts for Grades 7, 8 and 9.
"It's been difficult in a way that obviously as a teacher, in-person learning is the best way for students to learn and to be in a learning environment is the best way to learn," said Ballantyne.
"So transitioning to online has been difficult in that way. However, I am grateful that we had an easy transition to technology through Google Classroom or other learning platforms and that students have had the opportunity to still learn even though it might be an environment they're not use too."
Ballantyne believes the motivation through the virtual classroom is like being in a real classroom.
"You have to have that balance between having your lecture and them working and also having that communication," she said.
"Whether it's through humour or watching a funny You Tube video that has to do with the lesson or playing an educational game with everyone," she said.
She hosted an online holiday theme for her class during the last week of school-which included a Christmas Kahoot at end of each lesson.
"I think in general, whether it'd be online or in the class, in person, there's always been that positive learning environment from the teacher and from the students," she said.
A challenge for her in the online learning environment was the 8:30 a.m. class.
"We all have different house environments and we saw a change not in attendance, but students being 100 per cent present when they had their younger siblings at home this lastweek," said Ballantyne.
"I think the students and the households have done their best with what they have been given. And I'm very proud of my students for showing resiliency during this time."
The provincial government officially announced on Jan. 7 that all students would return to school on Jan. 11.