Elkwater Winter Festival cancelled for 2021
Posted on January 27, 2021 by 40 Mile Commentator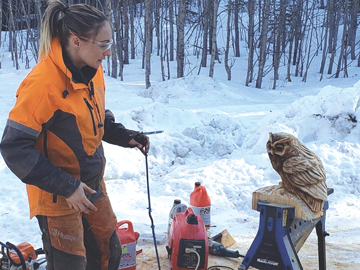 Photo Submitted by Elaine Ziegenhagel Marina Cole carves an owl during the 2020 Elkwater Winter Festival on Feb. 1.
By Justin Seward
Commentator/Courier
The Elkwater Community Association has decided to cancel the sixth annual Winter Festival for 2021 due to COVID-19 restrictions.
"We can't do the craft market because our facilities aren't big enough to do the social distancing and that's our issue," said Dave Ziegenhagel, Elkwater Community Association president.
The impact will be felt this year.
"It's sad, but what can we do, and the problem of this is we get (a) lot of people, but we just can't keep the social distancing," he said.
"We've been advised because we're partners with the (Alberta) Parks and they advised us that we're going to have to cancel it for this year."
Ziegenhagel says the Community Association was not in a holding pattern to see if the event could be possibly hosted this year.
"We haven't been able to get any of the things organized with the people," he said.
"Hopefully next year we can up and go with it."
The Winter Festival usually runs on the first Saturday in February every year and includes a toboggan hill, cross country- skiing lessons, an indoor craft fair, a sleigh ride, Marina Cole of Chainsaw Spirit doing demonstrations, a snowman contest and free ski lessons to name a few events.
The event draws in significant numbers ever year.
"We'll get around that 10,000 people because it's in conjunction with everything with the ski hill and everything else," he said.