Local fire chiefs remind the public of ice safety
Posted on January 27, 2021 by 40 Mile Commentator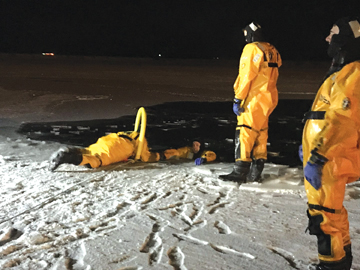 Photo submitted by the Bow Island Fire Department Bow Island firefighters were practicing ice safety drills recently. It is not recommended for people to be doing
By Justin Seward
Commentator/Courier
Southern Alberta has been experiencing milder temperatures to start 2021 and as a result could create unpredictable ice conditions for those people that enjoy the winter activities out on the frozen water.
The County of Forty Mile Fire Department has provided multiple safety factors to consider that affect ice thickness, which includes location, time of year and environmental factors.
Water depth and size of the body of water, currents, tides, other moving water, chemicals including salt and fluctuations in water levels are environmental factors to take into consideration. Logs, rocks and docks can absorb heat from the sun, a change in air temperature can be experienced and shockwaves can be created from vehicles travelling on ice.
"If you do fall through the ice and into water, stay calm and shout for help," said Dustin McGarry, County of Forty Mile fire chief.
"Try to pull yourself onto the ice shelf. Keep your hands on the ice shelf, kick your legs and try to pull yourself up on the ice and on to your stomach. Once out of the water, roll towards the shore where the ice might be thicker."
McGarry said if you can't get out of the water in less than 10 minutes, to stop kicking and try to pull yourself out and anchor yourself to the ice shelf and continue to shout for help.
People should stay back and call 9-1-1 if they witness someone falling through the ice.
"Encourage the person in the water to kick their legs, while trying to pull themselves out of the water," he said.
"If possible reach or throw an aid such as a branch, hockey stick or rope. If the person can get out of the water and is still on ice, tell them to roll towards the shore, not walk."
McGarry recommends for people to stay off the South Saskatchewan River as river ice tends to be less predictable than lake ice.
People going out on the ice should plan ahead with these tips: inform others of your destination and return time, dress in layers, keep phone, keys and first aid equipment stored in a safe spot known to all parties, wear proper footwear to avoid slipping and check weather conditions as warm chinook winds can rapidly change ice strength.
Bow Island Fire Chief Blaine O'Donnell wants the public to be cautious with the abnormal weather that January has brought on.
"It's dangerous to be on the ice at this time of year," said O'Donnell.
"We've been doing practices on ice rescue the last two weeks — the ice — it's scary."
O'Donnell added the ice could look good on top but encourages people to make sure that they check the depth before you go out too far.
"It does get rotten, especially if there is a spring in any of the places you plan on going. It'll keep it open," he said.
"Right now there's quite a bit of ice in some areas. I don't want to say it's safe ice – but there is still quite bit of ice out where we've been practicing—the ice is still quite thick. I consider it dangerous ice because it's been melting and thawing."
A maximum of one person can be on the ice at two inches thick, four inches thick for a person fishing or group walking, five inches thick for a snowmobile, eight inches for a car to drive on and 10-12 inches for a light truck.