Back Alley Fitness' frustrations mounting over lack of government communication
Posted on February 3, 2021 by 40 Mile Commentator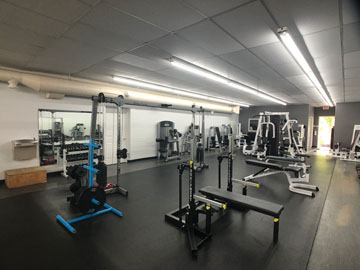 By Justin Seward
Commentator/Courier
Back Alley Fitness has locations in Medicine Hat and Redcliff that have been shut down since Dec. 13 in the province's effort to stop the spread of COVID-19.
Gyms have been closed through a couple of mandatory shutdowns now , and owner Colin DeWolfe said it's a hard position to be in when your source of income has been taken away for five months in a year—especially being given very little information— as to the cases of transmission from within the fitness facilities.
"We've been given no data to suggest that our industry is any more risky than any other industry," said DeWolfe.
"And it's very frustrating to see all the surrounding provinces, through the United States, gyms are open because people acknowledge the mental health and the physical health aspects gyms bring to our society. For whatever reason, our government, our leadership, has deemed that as not important."
DeWolfe joined up with Fitness Industry Council of Canada during the first lockdown last spring and the organization was helping to get gyms open provincially.
However that has not been the case since the December shutdown.
"But with this round of closures, everything (has) been silent," said DeWolfe.
"They (the provincial government) haven't really been communicating with us— which is very frustrating"
DeWolfe's gym has banded together with a group of 1,500 small studio gym owners from across the province that are putting a request into the government to be transparent.
"Because honestly, they have not been," he said.
"I know in Medicine Hat—in the fitness community here with all the gyms— I'm friends with a bunch of the other gym owners— they've not had a case in their facilities, we haven't had cases in either of our facilities. I don't get why we're being deemed as high risk. We've demonstrated that we're not."
What DeWolfe has been hearing from his members is that maintaining the motivation to keep themselves healthy and wellness is even more challenging than normal with all the shutdowns.
"You don't have that sense of community, you don't have the venue you're used to being in to do that, " he said.
"For a lot of our people, you kind of outgrow home workouts very quickly. And for most people, there are huge barriers of entry into eating well and maintaining physicality."
With no one allowed in the Redcliff facility, equipment is being rented out to members.
"In a 4,000 square foot facility, the government has deemed it too dangerous for me even to allow one person to come in at a time," he said.
The gym has been closed effectively since Dec. 13 this shutdown and by the time Feb. 10 arrives, the business will have gone five full months without drawing income.
"We have been paying all of our business bills, which add up very quickly," he said.
"And the small amount of grants that the government has handed out, don't even start to cover all that."
Back Alley Fitness' expenses to maintain both locations totals around $10,000 a month and the gym received $13,000 total from the government.
"You do $50,000 worth of bills over five months and they give you $13,000," he said.
"Essentially I'm paying through the nose to try and keep my job and my investment at this point."
Both DeWolfe and his wife Alyssia have taken jobs during the closure with an American company doing online nutrition training to help pay personal bills.
Clarification for indoor fitness facilities
The provincial government emailed in a statement to the Alta. Newspaper Group a clarification after the announcement of restrictions being eased for indoor fitness centres on Jan. 29.
These rules will be in effect Feb. 8.
"Only one-on-one or one-to-one household training will be permitted for indoor fitness activities starting on Feb. 8. Individual, unsupervised workouts will not be permitted, even if made by appointment," said Tom MacMillan, Government of Alberta assistant director.
"We are moving cautiously to prevent the spread of COVID-19 as we ease restrictions. Allowing fitness activities with a trainer will help many Albertans get back to work while also helping minimize the risk of transmission.
Allowing individual workouts alone, unsupervised, increases the likelihood of individuals mixing and mingling or not adhering to the other measures in place. Trainers will be accountable for ensuring that measures in place are followed, including masking and distancing."