TREX looking for local artists to showcase to the province
Posted on February 3, 2021 by 40 Mile Commentator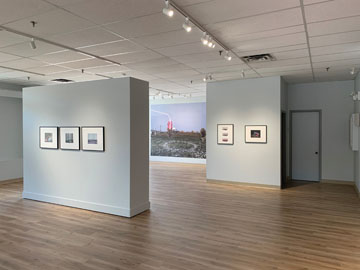 Photo submitted by Trex Space CALLING ALL ARTISTS: A picture of the TREX Space in Medicine Hat.
By Justin Seward
Commentator/Courier
The Alberta Foundation of the Arts are seeking out the next group of artists to showcase to the province.
The Travelling Exhibition Program, also known as TREX, has put out an open call until March 1 for artists in southeast Alberta.
"The goal is we want to connect with artists that are in our region," said Genevieve Farrell, TREX curator for the southeast region.
"We want to get to know these people and maybe curate some of their work into exhibitions that will travel all across the province."
Farrell says any artist working in any medium can qualify for the open call.
"It can be any painting, drawing, photography, woodwork, sculptures, any craft medium," she said.
"The artworks have to be somewhat durable because they are going to be handled quite a bit. They travel to over 50 venues over the span of the exhibition."
Farrell wants to make sure the artists in the region have a network, a support system and exhibition opportunities.
More information on open call criteria can be found at http://www.trexprogramsoutheast.ca/open-call.
Artists can send their application to Farrell at genfar@medicinehat.ca by March 1.
The application should include an artist biography, images of the artwork that would be exhibited and a statement about those artworks.
TREX is a provincial program that has been operating for 40 years and its focus is to connect Albertans with provincial artists.
"We mainly distribute exhibitions to non-traditional venues, so instead of galleries or museums, these exhibitions go to libraries or community centres, any kind of school, seniors centre," said Farrell.
"The idea is that people outside of Calgary and Edmonton are having really fantastic, contemporary artists come to their communities. They don't have to go to the big, major centres, and if you're somebody who isn't used to going to an art gallery, this art is coming to different venues where people might be more comfortable."
TREX Space is located at 516 Third Street SE in Medicine Hat and will be doing a window exhibit of "Mystical Landscapes" photography by Arthur Nishimura starting this week.
TREX Space is temporarily closed to the public due to the current COVID-19 restrictions.