County council postpones wind farm zoning change
Posted on February 9, 2021 by 40 Mile Commentator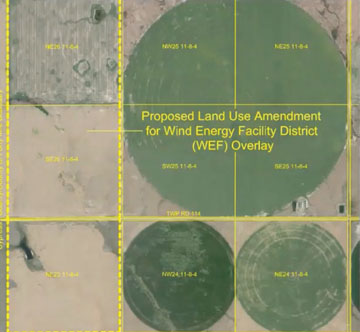 By Justin Seward
Commentator/Courier
After some discussion and a public hearing, Cypress County council postponed a zoning changing request from Enerfin Energy at its Feb. 2 meeting.
The postponement will allow for continued consultation regarding the placement of infrastructure for Enerfin's transmission lines.
Enerfin Energy Company of Canada submitted a land use reclassification overlay for Wind Energy Facility (WEF)District from Agriculture District 2.
The Winnfred Wind Project area is east of the County of Forty Mile boundary along Township Road 114.
The WEF overlay allows for the use of wind turbines and related infrastructure and still allow for agriculture activities to continue on each parcel.
"The proposed reclassification area is an extension of the Winnifred Wind Project within the County of Forty Mile," as read in the agenda package.
"The County of Forty Mile granted land use reclassification approval in December 2019. Since this time, the Alberta Electric System Operator (AESO) has transitioned the project to connect to the existing Bullshead AltaLink substation and the new connection therefore allows Enerfin to expand the project. Enerfin is simultaneously working through a land use reclassification with the County of Forty Mile to expand the approved project area."
"This new connection also allows for the project to be expanded into the boundaries of Cypress County. The proposed project area contained within Cypress County spans over three separate quarter sections and is anticipated to include the construction of two turbines. There are no residences in direct proximity to the land use reclassification overlay."
County resident Clay Betcker submitted the lone letter of concern to the public hearing in regard to the 138-kilovolt transmission line which is being proposed along the north side of Township Road 114 and west of Highway 3.
"The reason for my concern stems from my residences' south wall being a mere 20 metres from the property line, which the proposed property line is to follow," said Becker in his submitted letter, that was read by the county's director of planning Kaylene Simpson.
"It is unethical to allow the build of a high voltage power line so close to any residence. My residence is one of three, as well as an anhydrous ammonia fertilizer storage facility located in a short 1.5-mile stretch, for which should be less than 50 metres from this power line."
Betchker went on further to say that Enerfin has plan to proceed along the southside of Township Road 114.
"I'd be alright with this option as long as Fortis Alberta does receive approval to relocate their existing three-phase powerline, that is currently on the southside of the township road to the north side," said Betcker.
"I've also been informed that Cypress County has given Enerfin an option to purchase additional land along the 114 in order to the expand the right of way. The expansion of right of way does not solve the problem with powerline being located too close to my residence. Also, I give notice that there is minimal chance I will willingly sell any of my property to Cypress County in order to better facilitate a project of this nature."
Coun. Dustin Vossler said the biggest effect would be the Co-op anhydrous tanks that the powerlines would go over top of.
"It actually would never be allowed to even go that close to it," said Vossler.
"The transportation industry wouldn't allow it—it's dangerous (getting) too close to it. Next, it would go across two people's driveways—essentially within 20 to 30 metres of their houses. Further up, if it's in the middle of a 30-metre setback, it would interfere with multiple pivots and then it comes very close to a bin yard along the way. Their route there probably isn't the best if it's not going to be in our ride of way especially."
Coun. Shane Hok added that Enerfin could consider building parts of the project underground as a when constructing near hamlets.
"It's going to be a part of doing business and it's maybe a way of the future," said Hok.
Vossler thinks Hok's suggestion would be the best option.
"It would essentially be from Range Road 71 all the way to Range Road 73 that would have to be underground, essentially not to disturb anything," said Vossler.
The proposed project has been in the works since 2017 and is 120 megawatts and will connect to the Bullshead substation with a newly installed 138 kilovolt transmission line. The connection has allowed to expand the proposed project from 90 megawatts to 120 megawatts.