Foremost's Main Street Cafe doing 'OK' during pandemic
Posted on February 9, 2021 by 40 Mile Commentator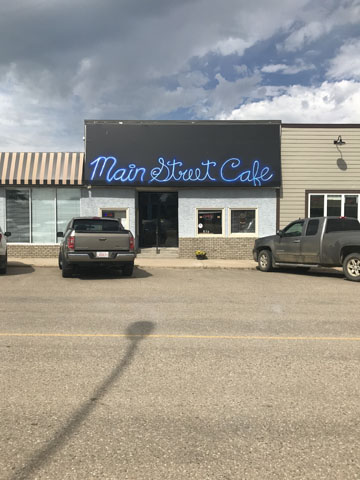 Photo submitted by Joanne Schmidt The Main Street Café has seen steady support from the Foremost community amid the COVID-19 pandemic.
By Justin Seward
Commentator/Courier
Foremost's Main Street Café has been through two shutdowns amid the COVID-19 pandemic and businesses seems be doing OK over the past year.
"But because we're small town and really there's not a lot of places to choose from here, we've done OK," said Café owner Joanne Schmidt.
"I only had to lay off one person this go around. The first time we had to shut down(March 2020 to June)— we were busy. I had both the cooks and myself and another girl going pretty much steady. But the thing that hurts us the most is not being able to open the lounge because they can't sell a beer or nobody can play the VLTs. You make your money on the alcohol and not so much the food in my opinion anyway."
The Café has been take-out only since Dec. 15, 2020.
"Our take out has been good," she said.
"We do pizzas. I think we sold pretty close to 300 pizzas last month."
With Foremost being a small town, the community has been very supportive, added Schmidt.
"I know I've done better than a lot of small places that's for sure, "she said.
"January was quiet, but January is always quiet. It's that after Christmas thing and it's just quiet."
She said her income has been down half in the last month compared to January last year.
Having the wind farm crews coming in last January made a difference last year for the business, noted Schmidt.
Having steady business at the Café did not come without its challenges during the pandemic.
"We had one fellow who had it (COVID-19) and no one else," said Schmidt.
"Even the people he sat with at table—nobody got it— not one person. Everybody had to self-isolate. None of my staff got it because we were following the protocols and taking the precautions."
There was sense of anxiousness for the girls that were working in the Café for a while.
"Of course it makes you go 'Oh that's kind of scary,'" she said.
The Café was included in the Jan. 29 announcement in the province's Step 1 Path Forward reopening starting on Feb. 8.
"I know that once we can open our doors that we're going to have people there," said Schmidt.
"They're ready for it, waiting for it and excited. Anybody that I've talked to (are like) 'Yeah you get to open on Monday,' because they're tired of eating out of a box."
There will only be allowed six people allowed at a table— individuals must be from the same household or two close contacts for a person living alone—tables and dining parties must be two metres apart, contact information must be obtained from one person of the dining party or an individual dining alone, liquor sales end at 10 p.m., indoor dining must close by 11 p.m. and no entertainment allowed.
"I think if everyone follows the protocols that there shouldn't be any problem," she said.
"I think it's going to be fine and let the businesses get back open and start living again and be able to pay their staff or pay themselves."