Minor hockey season cancelled
Posted on February 9, 2021 by 40 Mile Commentator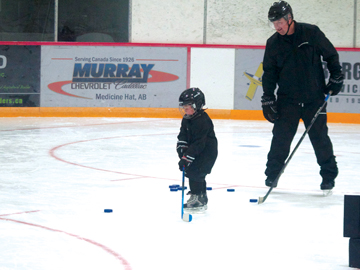 Commentator/Courier File Photo
By Justin Seward
Commentator/Courier
Hockey Alberta made the call on Feb. 2 to cancel the remainder of league games for the 2020-2021 minor hockey season.
This means the seasons are over for the Tiered, AAA and AA hockey due to the pandemic.
"Hockey Alberta is disappointed by the Government's announcement," said Hockey Alberta in a statement.
" Our senior leadership team has been involved in ongoing discussions on what a safe and inclusive relaunch plan could look like for our sport. Hockey Alberta will continue working with government and health officials to develop a relaunch plan that allows for hockey activities and keeps our youth active for their physical and mental well-being. "
A sense of disappointment was felt by a local player and minor hockey association.
"Obviously I was upset, but I guess you can't really do anything about it except just working hard at home," said Orion's Julian Laqua, who played for Medicine Hat's SEAC Tigers U16 AAA team this season.
Laqua's team only got in two cohort games before shutdowns came into effect.
"When we were playing as a team, it was definitely hard preparing, but you've just got to take every practice like it's your last practice and be ready for whatever is coming for you," said Laqua.
"We're all pretty frustrated and upset about not being able to practice or play. I was just hoping to see my teammates and play again."
Bow Island Minor Hockey president Chantel Timmons had only hoped the decision would have been delayed.
"We knew there was a decision coming this week, but after only announcing minor hockey town hall meetings (scheduled for Feb. 4) to occur, we thought maybe the decision would be delayed," said Timmons.
"But we got the bad news on Tuesday rather than Monday as originally thought. It is definitely not something we wished to happen but understand where they are coming from. In reality our minor hockey aged kids wouldn't be allowed to step on the ice until March 1 at the earliest, if all goes according to plan in the province's announced step system, (it) doesn't really leave any time to consider league play."
Timmons did not think more could have been done to save the season after minor hockey associations across the province—including BIMH— made their voices heard.
"I know the rallies, the constant contact with MLAs, the 'noise' we were making was noticed, but I don't really think there was any changing minds or even having the opportunity to discuss regionalization with decision makers," said Timmons.
"I feel like there are definitely some blinders on when rural is asking for some regionalization to these current restrictions."
"Glum" is what she said will be the feeling around the hockey circles in Bow Island for a while.
The South Alberta Hockey Academy U18 male and female prep teams will be able to resume when the times comes because the programs are education-based under the Alberta Education curriculum.
"When we're at the Family Leisure every morning for four hours, our kids are actually earning 20 high school credits, and we're following the Alberta Education curriculums," said Darren MacMillan, SAHA general manager.
Despite the announcement, Hockey Alberta continues to focus on working with its members to explore all options that could include a spring development season when Step 2 of the Government of Alberta's "A Path Forward" comes into effect March 1.
On Jan. 29, the provincial government outlined a four-step timeline for when businesses and other activities?including hockey and other team /youth sports? could be allowed to return to play. There would be at least three weeks between Stage 1 and 2.
Junior B, C and female had until Feb. 8 to determine if league play is still possible.