Physical isolation, spiritual connection
Posted on February 16, 2021 by 40 Mile Commentator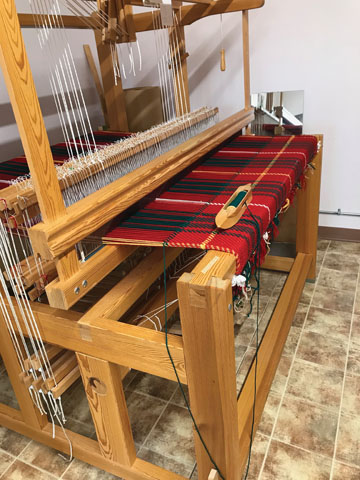 Photo submitted by Dorothy Kroeker Bruce Tartan blanket
Submitted by Dorothy Kroeker
Weaving is my hobby.
I belong to the Celebration Weavers guild.
We have a room upstairs in the Burdett Centennial Hall next to the Prairie Rose Quilters.
I am the sole occupant of the Hall when I go these days.
I take snacks and a lunch so I can spend the day there.
My project is a Bruce Tartan blanket.
The blanket took over 90 hours to complete. It was time purposefully spent.
The wool connected me to the sheep grazing in the fields, the farmer who cared for them, the shearer, the spinner, the dyer.
The amazing Glimakra Countermarch loom I used was made in Sweden. It is expertly crafted of sturdy pine. Its beams, treadles, harnesses, heddles, reed, ratchets and brake all work in harmony with my peddling and beating. Floor looms have been used for over 800 years.
The pattern of the Bruce Tartan is named after Robert the Bruce, once King of Scotland. The family were originally French invaders; surname de Brus. Scottish tartans have been made for over 400 years.
The Celebration Weavers have been a guild for 40 years. We have gone through very vibrant times. We used to have yearly sales of our handwovens. We are a small group now but we hold much combined knowledge and a willingness to share our skill.
Weaving in the guild room has a familiarity of place, smell and connection to current and past members.
My time spent at the loom, finishing and fulling the blanket were a labour of love for my brother, Bruce.
My sister first introduced me to weaving. She bought me my first rigid heddle table loom. My mother is of English descent and when she and Dad travelled to England to meet relatives they also went to Scotland. They brought home tartan fabric for my sister and I to sew. They brought Bruce a tie in the Bruce Tartan.
There are so many links involved in how, what, and why we do things.
This blanket is much more than an object. It is a living story of connectedness.