South Zone sees over 12K dose of COVID vaccine administered
Posted on February 16, 2021 by 40 Mile Commentator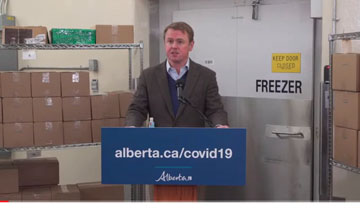 File Photo Alberta Health Minister Tyler Shandro
By Justin Seward
Commentator/Courier
Alberta Health Minister Tyler Shandro was joined by officials in a telephone town hall with media across the province to talk about the rural vaccine roll-out Feb. 9.
Alberta's Chief Medical Officer of Health Deena Hinshaw and Paul Wynnyk, the chair of the COVID-19 vaccine task force joined Shandro to answer questions during the evening.
Over 124,000 doses of the COVID-19 vaccine have been administered in Alberta and includes 32,690 people, who have received both required doses. The South Zone has administered over 12,000 doses of the COVID-19 vaccine, Calgary Zone has distributed over 41,000 vaccinations, Central Zone has administered over 14,000 doses of the vaccine, 43,000 doses in Edmonton and the North Zone sits at just shy of 12,000 doses administered.
"We see in some areas, even they have a little more than their population shares," said Hinshaw. "It's equitably distributed across the province."
Hinshaw added there are 92 sites outside of Edmonton and Calgary where the vaccine has been administered and does not include the individual long-term care and designated supported-living locations.
Shandro said, "It took quite a bit of logistical work," when asked about the challenges of shipping the vaccines to the rural areas compared to the urban centres.
"These two vaccines approved right now in Canada — the Pfizer vaccine and Moderna — both have some cold storage, for Pfizer ultra-cold minus 80 and the Moderna, the cold storage at minus 20. That means quite a lot of freezer space had to be procured by Alberta Health Service (AHS) and ministry. Agriculture and Forestry donated some freezer space to us to include in our warehouses— including in the provincial vaccine depot in Fort Saskatchewan," said Shandro.
"And then having the distribution at-work from the delivery site, where Pfizer and Moderna are allowed to deliver the vaccines and how it gets to all the different sites. In particular, in the sites that are rural and remote, and we have 354 of these long-term care facilities to be included in Phase 1a — 28,000 residents and 36,000 staff there in 1a— and a lot of them in those rural remote communities. There was quite a lot of logistical acrobatics to be able to make sure we were increasing our capacity to get them out to those communities, as quickly as possible."
Hinshaw spoke about the importance of easy accessibility when the vaccine is available to all Albertans.
"I think the goal, once we do have sufficient vaccine in-hand, is to make it accessible to Albertans across the province in places that are easy for them to get to," she said.
"(In) our annual influenza campaign, we do that, where we make sure people have access and locations that are easy for them to get to. (The) influenza vaccine is easier to transport, because it only requires storage at refrigeration temperatures. Whereas, the Pfizer and Moderna vaccines are quite challenging."
Hinshaw added Pfizer's ultra-cold and the Moderna's cold storage temperatures are the challenge in transport.
Wynnyk confirmed the province will be ready when more vaccines are distributed.
"We are ready and waiting to continue expanding our vaccine program," said Wynnyk.
"And in fact, Alberta was preparing months before the vaccine actually rolled out. Officials from Alberta and AHS have been working tirelessly to turn a path forward to ensure the vaccine is distributed as rapidly, as safely and as fairly as possible. The Task Force has assured every detail is considered and no stone is left unturned."
Canada has seen a decrease in vaccine supply in recent weeks and has brought Alberta's vaccine roll-out to a standstill, forcing the province to look at second doses at this time, added Wynnyk.
"We know each and every dose of vaccine represents an Albertan that needs to be protected and is absolutely vital to protecting their health and their livelihood," said Wynnyk.
"As soon as our vaccine supply increases, Alberta's health officials are ready to resume first doses for all eligible health care workers, and as soon as we can, we want to start immunizing all Albertans over the age of 75, regardless of where they live."
Hinshaw assured information on Phase 2 vaccination eligibility will be made available in many different ways when it becomes available.