Hirsche looking forward to being Village CAO
Posted on February 23, 2021 by 40 Mile Commentator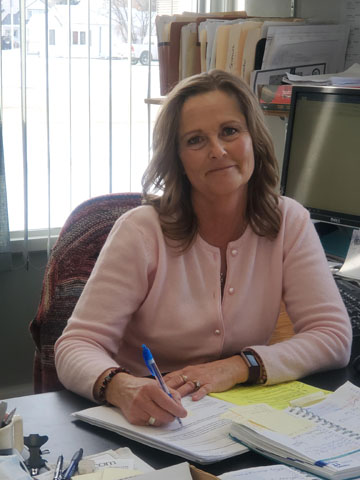 Photo Submitted Village of Foremost CAO Marilynn Hirsche,
By Justin Seward
Commentator/Courier
Village of Foremost awarded Marilynn Hirsche the permanent Chief Administrative Officer position in January.
Hirsche has been with the Village for 35 years as an assistant administrator, working closely alongside her predecessor Kelly Calhoun for the entire term.
Hirsche was named temporary CAO last October after Calhoun retired .
She realizes she has big shoes to fill in taking the position, but knows she has a great administrative and public works team who are supportive and willing to assist her at any time.
"At this point in time, there is a lot of stress in moving into the position so quickly—a lot to learn in a short period of time and a huge workload to contend with. However, (I am)somewhat excited," she said.
"I haven't had time to think of a specific focus, just getting through day-to-day workload, while on a huge learning curve."
Hirsche said she wants to continue working with council on completing new government projects and initiatives as well as keeping the Village moving forward and progressing.
Her hope is to settle in the position and use what Calhoun had taught her to keep the village flourishing.
"We just felt that Marilynn was a very good solution in that she knew the position?she had been there for 35 years— and it would be an easy transition for all the staff and councillors," said Foremost Mayor Lorne Buis.