Local tourism group will help Walsh as best it can
Posted on February 23, 2021 by 40 Mile Commentator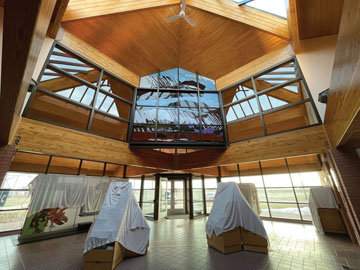 Submitted Photo
By Alta. Newspaper Group
Local tourism group will help Walsh as best it can
Tourism officials in Medicine Hat say they will do what they can to help a Cypress County effort to keep the tourism centre in Walsh promoting the region.
And even though 2021 presents an unclear picture for the tourism sector, there is opportunity to capitalize, says Jace Anderson, head of the Hat-based Destination Marketing Organization.
"There will be a lot of pent up interest in vacations in the summer," said Anderson. "And we expect to see a number of those people on the highway."
Coming out of 2020, when out of country trips or typical vacation destinations were likely replaced by day trips or visits to natural outdoor areas, Anderson said the trend could continue due to lingering pandemic restrictions or general feelings of uneasiness.
However, people will want to shake off cabin fever, just like last spring and summer, he predicted, and southeast Alberta and more rationalized travel and visits to out of town family will likely increase.
Earlier this month, Alberta Newspapers first announced that Cypress County would take over and operate space closed last year by the province on a $1 lease for the summer.
From May to September it will be used to welcome visitors and promote local businesses, services and attractions in southeast Alberta.
"It's a pivotal spot," said Anderson of the centre located 40 kilometres east of Medicine Hat near the provincial boundary.
The Destination Marketing Organization is not in formal partnership, but will lend support and advice as the previous operator. As well the Visitor Information Centre in Medicine Hat will direct patrons to Walsh, and vice versa.
"There is a real desire to see this succeed," he said.