Alberta government address COVID roll-out
Posted on March 3, 2021 by 40 Mile Commentator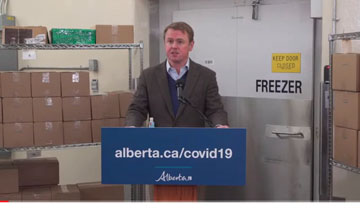 File Photo Alberta Health Minister Tyler Shandro
By Cole Parkinson
Alta. Newspaper Group
After the UCP government announced online bookings for COVID-19 vaccines, they doubled down by notifying Albertans pharmacies in Edmonton, Calgary and Red Deer will also supply shots.
During a press conference held on Feb. 24, Tyler Shandro, Minister of Health, announced a new wrinkle to the province's vaccine distribution.
"Alberta has a robust vaccine distribution system and we continue to expand our approach. As of (Feb. 23), we have administered more than 186,000 does across the province, and that includes nearly 6,000 doses yesterday (Feb. 22). Because of constraints on supply, we've been doing mostly second doses which have slowly ramped up. As we follow the schedule, the first dose was done a few weeks ago but at the same time, we have been working hard to get ready for future phases of our immunization program and that next phase is here," he said. "Last week, AHS (Alberta Health Services) began vaccinating seniors in group living settings in addition to the continuing care facilities that were our first priority. Today (Feb. 24), we opened eligibility to all seniors who are 75 years or older and as of just moments ago, when I was last briefed on this, we had over 25,000 appointments that had been booked. The first shots booked this morning are getting done this afternoon. The next step — I'm thrilled to announce that COVID-19 vaccines for Albertans 75 and older will be offered at community pharmacies in the first week of March. Participating pharmacies will begin scheduling today for the time slots they have available. This will make it easier for seniors to get their dose as quickly as possible."
With the ability shown by local pharmacists in administering flu shots, the province is confident they will be able to succeed in this new step.
As many seniors are still looking to get vaccinated during the current phase, the option to vaccinate in one of Edmonton, Calgary and Red Deer will hopefully ease some of the constraints put on the process.
"Anyone who has gotten a flu shot knows that pharmacists have a lot of experience in delivering vaccines. They have played an important role in our seasonal flu program for many years. They have the skills, the experience and the infrastructure in place to be an important part of our immunization program. Those 75 and older will be able to book their immunization appointment at more than 100 participating community pharmacies in Edmonton, Red Deer and Calgary. The Ministry of Health has been working with the Alberta Pharmacists' Association to develop a program for pharmacies to provide vaccines across the province," continued Shandro. "To start off with, due to limited supply and logistics required, the vaccine will be limited to participating pharmacies in Edmonton, Red Deer and Calgary. We know many pharmacies across the province are keen to jump in and assist in on this immunization program. However, we must start small due to the limited vaccine quantities we are being provided by the federal government and the strict storage and handling requirements for the Pfizer vaccine."
Shandro also stated geography, population needs and ability to handle large quants of immunization in a short time frame were all factors for which pharmacies were selected.
"In the first stage, we anticipate there will be a total of 102 pharmacy partners," added Shandro.
While only three major markets are providing this service, Shandro wanted to remind seniors AHS was still administering vaccines across the province.
"I want to reassure those eligible Albertans not in or near one of these centres, that they will still be able to receive their doses in the same timeframe, close to home through AHS," he said.
As soon as we have the supply and the processes in place, we plan to expand the pharmacy program to help get doses in the arms of every Albertan who wants to get vaccinated, when they are eligible. As more vaccines arrive, participating pharmacies in many other communities will begin to offer the vaccine as well."
Expansion into vaccinations at local community physicians is also on the horizon for the province, but no timeline has been nailed down yet.
Shandro also touched on the online booking for vaccinations which experienced a hiccup on a technical level.
"I know a lot of folks were frustrated that they couldn't get through to book an appointment right away, and I sympathize with them. At launch this morning, more than 150,000 people tried to visit the booking site and the website was overwhelmed," he stated. "There was also long delays on the phone, and I get how frustrating that must have been. One of my parents and both of my in-laws are in the age group to book appointments and I understand the frustration because this has hit home close to me as well. It's been 10 long months in this pandemic, people's nerves are worn raw by nearly a year of restrictions and a year of uncertainty, frustration, stress and anxiety and about when we will be free of these restrictions. Vaccines are our ticket out of this pandemic and anxiety so any delay in booking an appointment is yet another difficulty and frustration for folks. So I am disappointed but the fact is it is going to take time to reach everyone. We are getting a bit over 50,000 doses per week and we have 230,000 seniors to cover. At two doses a piece, it is going to take about a month to get first doses to all of these seniors."
With those difficulties, Shandro was asked what he would want to see moving forward in terms of booking vaccinations.
"What I would like to see going forward from AHS is ensuring the work with Telus to make sure there are no busy signals. And look, we actually said weeks ago, and we've said it throughout the pandemic, that when it comes to responding to the pandemic that money is not an issue. Resources are not an issue for AHS and we did actually check in with them a few weeks ago to make sure they were ready and they advised us they were. We're disappointed like all Albertans. What I'd like to make sure is that AHS