Medalta hosting a 50/50 raffle
Posted on March 3, 2021 by 40 Mile Commentator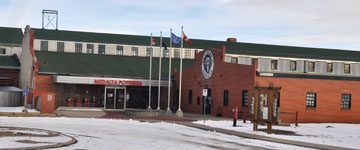 By Justin Seward
Commentator/Courier
Medicine Hat's Medalta Potteries is hosting an 50/50 raffle because a lot of their major fundraisers were cancelled this year due to the COVID-19 pandemic
"We're just hoping to try out a new way to do some digital fundraising and so far it's been quite successful for us," said Jessica Day, Medalta's marketing and communications coordinator.
"And also another thing is usually we a lot with the community, this year it's been a little more difficult to do that. This is a good way to give back a little bit as well—someone can win that $2,000."
Medalta, in normal times, would be making money off of annual fundraisers such as the Black and White Gala, pottery classes, education programs and artist appearances and none of those could happen this year due to COVID, added Day.
Raffle ticket sales will go back into general costs for Medalta.
"A lot of the grant that we get, obviously are for a specific project. We're hoping to use this for our general costs as well as maintenance. Our buildings are over a 100-years-old and there's a lot to get these buildings up and running," said Day.
50/50 tickets can be purchases online at https://www2.rafflebox.ca/raffle/medalta.
Tickets prices are one ticket for $10, four for $20, 20 for $50 and 100 for $100.
One Medalta supporter can win up to $2,000.
The 50/50 raffle runs until April 1 and the draw date is on April 3 at Medalta.