Prairie Gleaners continues a steady pace of dehydrated soup mix shipments
Posted on March 3, 2021 by 40 Mile Commentator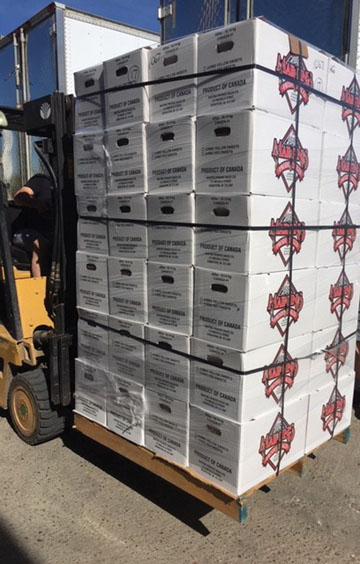 File Photo Prairie Gleaners have remained consistent with shipping dehydrated soup mix worldwide.
Submitted by Jim Grossman, for the Prairie Gleaners
For the last three months, we at the Gleaners have been busy preparing, dicing, and dehydrating our vegetables in preparation for shipping our soup mix to various places around the world in hopes of helping to feed the hungry.
In November, Prairie Gleaners partnering with Faith Missions Inc., based out of Winkler, Man. was able to supply two pallets of our dehydrated soup mix which consisted of 1,120 bags? which is equivalent to 140,000 cups of rehydrated soup. John and Anne Peters with Faith Missions transported the pallets to Winkler where they will be added to a sea container (filled with clothes, blankets, and medical equipment, etc.) which is headed to the Ukraine.
In December ,we sent a 20-foot sea container, containing 10 pallets of our soup mix which is 9,200 kg to the Dominican Republic with our partners from Food for the Hungry, Association Dominica De Rehabilitation. This amounts to approximately 5600 bags, which is equivalent to approximately 700,000 cups of rehydrated soup. This shipment left us here in Medicine Hat, arrived in Calgary, then by train to Montreal and by ship to The Dominican Republic.
On Dec. 22, 2020, we had five lifts consisting of 4,500 kilograms leave the plant enroute to Venezuela via East West Trucking out of Calgary, then on to Vancouver and by sea to Venezuela with the aid of Global Emergency Missions Society (GEMS).
We had five lifts going to Nicaragua and four lifts to Venezuela on Jan. 6 again with the aid of East West Trucking from Calgary, and GEMS. Fair Fellowship Aid and International Relief were on hand to receive these shipments and help distribute the soup mix to the people involved.
On Feb. 11, nine pallets (5,088 bags of dehydrated vegetable mix, 636,000 cups of soup) left Medicine Hat enroute to the Dominican Republic, again with East West Trucking, to Calgary, where a large compressor and medical supplies were added to the sea container in Vancouver then on to the Dominican. Everyday Ministries Canada will be on hand in the Dominican to distribute the soup mix to the people there.