Servus Community Arena to livestream events
Posted on March 3, 2021 by 40 Mile Commentator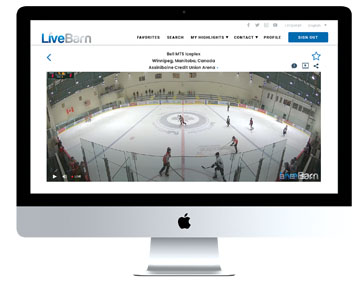 Photo submitted An example of a LiveBarn feature.
Town of Bow Island council voted in favour of a venue agreement with LiveBarn Inc. to stream events at Servus Community Arena at their Feb. 22 meeting.
The town's Recreation Advisory Board initially researched the idea and brought the concept forward to the town.
"They followed up with other communities and got some references, and had good feedback from other communities," said Dave Matz, Town of Bow Island's chief administrative officer.
The agreement will see LiveBarn install an automated broadcast system for the delivery of live or on-demand video and audio streaming to internet connected devices.
Parents can live stream from anywhere, watch on demand and save highlights with unlimited 30-second downloads.
Coaches will have the opportunity to see the game from a different perspective and helping the players and teams improve by reviewing games and practices, download clips and games, and scout the competition.
The players will be able to share highlights and build a resume reel to enhance their recruiting profile and improve performance to see what could have been done differently in pivotal moments.
"There (are) a lot of other communities in Alberta—I think about 30 different communities— that have signed up with LiveBarn," said Matz.
"And really with the COVID restrictions, there has been a big push, that people can't attend the games in person and they have the opportunity to watch it online."
The town will have control over what events are streamed, said Matz.
"If there is like a private function going on or a private practice for team practices or figure skating practices, we can black that out," said Matz.
Matz said there are no costs to the town for the LiveBarn service.
People will be able to log in through the LiveBarn website and watch a hockey game beginning next season.
"We've made it really accessible for the kids to keep playing and parents don't have to miss a moment of it. They can either watch live from the app, you can watch live from the parking lot while another parent is watching from home or watch the game after," said LiveBarn's marketing director Kristina Young.
Young said LiveBarn has been installing equipment in clusters and this year had a focus on Minnesota, Alberta and Saskatchewan.
"We are a small growing company, so it was just getting the feet on the street to get out, talk to the rinks and get them installed," she said.
LiveBarn also introduced that when a parent/player go back into the rink that if a game is being viewed live, the app can be used to tag plays and the plays are emailed to you after the event.
If the venue promo code is marketed, a revenue share will come back in return with every subscription that is purchased under the code.
"If it gives BIMH the opportunity to live stream games and anyone can watch them I think we would be all over that," said Chantel Timmons, Bow Island MinorHockey president.
"(It) seems the way of the future is video and if we are ever again, or heaven forbid still in the current COVID situation, at least people could watch the kids play.  Once I've had the chance to fully grasp the LiveBarn capabilities I'm sure we will make great use of what the Town has done."
Once the contract is signed, it will be then when an installation date will be determined.
LiveBarn has 800 venues in the USA and Canada, which looks after 1,500 playing surfaces in a variety of sports.
Council brief:
Council approved the Second Avenue E. infrastructure project.
The budgeted cost for the project is $941, 982 and will include the replacement of water, sewage and sidewalks along Second Avenue E.- between Second and Third Streets East.
Construction is slated for between June 28 and Aug. 28.