AEP expects another busy camping season
Posted on March 9, 2021 by 40 Mile Commentator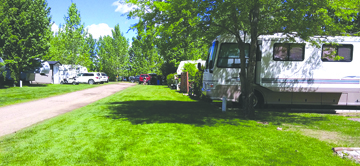 File Photo
By Justin Seward
Commentator/Courier
Individual camping reservations for provincial parks opened up for the season on March 4 and it's anticipated to be another busy spring/summer at campsites in Alberta.
"Camping reservations open March 4 for individual campsites for arrival dates up to 90 days in advance (up to June 2). Comfort camping reservations opened March 5 for arrival dates up to 180 days in advance," said an Alberta Environment and Parks (AEP) spokesperson.
AEP noted that total camping reservations was 288,000 in over 8,600 campsites last year and in 2019. numbers were slightly lower at 193,000 in over 7,500 campsites.
"We anticipate high demand for camping again this spring and summer – similar to last year," said AEP.
AEP says there is still a lot of time for campers to plan for and book their summer trips.
"Keep checking online for availability throughout the spring and summer," said AEP.
"There are always cancellations, and if campers can be flexible in their dates or go mid-week, that helps too."There will be 5,000 first come, first serve campsites available in addition to 9,000 sites that can be reserved in advance online.
Group camping remains closed due to COVID-19 gathering restrictions and campgrounds will be operating at 100 per cent capacity.
"Several steps were taken by Alberta Parks in 2020 to help prevent COVID-19 spread and they remain in place for 2021 to support a smooth and safe opening to the season," said AEP.
"Signage was put in place reminding campers of health guidelines. Most shower facilities remain closed, and shared sites with shared amenities like picnic tables and fire pits will have one half of the site closed."
There will be additional conservation officers to protect and manage parks and public lands after Budget 2021 was announced on Feb. 25.
Sites can be booked at reserve.albertaparks.ca or by calling 1-877-537-2757.