RYC seeks funding increase from the Town of Redcliff
Posted on March 17, 2021 by 40 Mile Commentator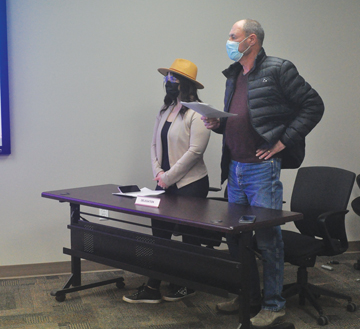 Commentator/Courier Photo by Justin Seward Redcliff Youth Centre's executive director Janae Ulrich (left) and board president Chris Corry presented their funding reques to town council on March 8.
By Justin Seward
Commentator/Courier
Redcliff Youth Centre's board president Chris Corry and executive director Janae Ulrich came before town council on March 8 with a funding increase request.
Since 2008, the town has contributed $12,000 annually to the RYC and haa paid in quarterly sums of $3,000.
"We'd like to see a baseline figure of $25,000 a year to cover mostly our operational costs that have increased substantially over that time period ," said Corry.
"And a back stop I suppose for those years that we have trouble fundraising to meet our operational requirements to help us through those years—which would be an addition to the $25,000."
The agreement has not been reviewed in 12 years.
Redcliff Mayor Dwight Kilpatrick asked Corry what would happen if council didn't approve their request.
"We could end up closing down," said Corry.
"Right now we're in a good position. If you see our business plan, our years fluctuate quite a bit and we're just looking for some standardization to allow us to continue with our capability as we now got it."
RYC felt lucky to get their in casino last year, but it is up in the air as to when the next one will be.
"We were very lucky to get our casino in February of last year, but we have no idea when our next casino will be and that goes a long way towards our operating costs," said Corry.
Council approved the motion to investigate to see if there is funds available in the 2021 interim budget for RYC.
"Obviously, they provide a valuable service that we need to keep going—totally on board with you guys ," said Coun. Chris Czember.